Wapello wins North Division volleyball title | The Hawk Eye – Burlington, Iowa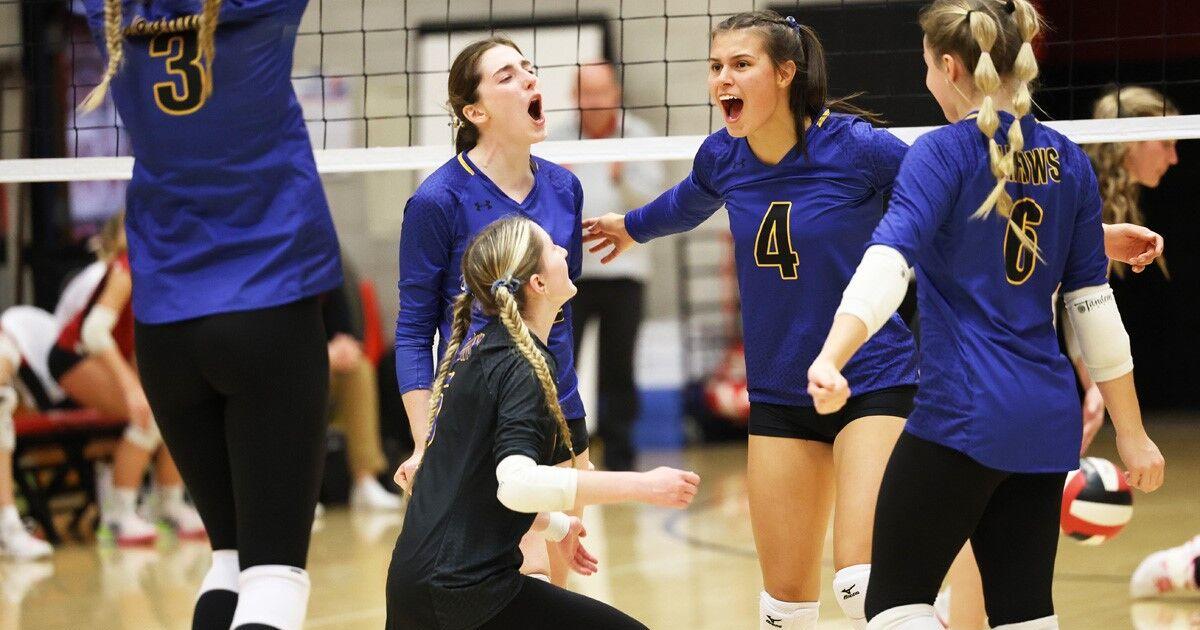 The Wapello High School volleyball team wrapped up the SEI Superconference North Division championship with a 25-10, 25-21, 25-15 sweep of Winfield-Mount Union on Tuesday at Winfield.
Emily Hemphill had 24 kills to lead the Arrows. She also had two aces, 13 digs and a pair of bocks.
Jacie Hoeg had 21 assists and 10 digs. Kate Lanz had two kills, two digs and a block. Tyra Lanz had four kills, two assists, two digs and four blocks. Mya Wagner had seven assists, one ace and 15 digs. Annaka Greiner had six kills, 12 assists, one ace and seven digs, Erica Gillette had three digs.
Audrie Gipple had sevem kills and 10 digs for the Wolves. Kellee Milks had seven kills. Mariana Piper had three kills, one block and three digs. Aurey Meelker had 11 assists, three aces and 10 digs. Jessi Renken had five assists. Lilly Freeman and Quin Smith each had two blocks. Kailey Neil had five digs.
NO. 14 WEST BURLINGTON25-19-25-25, MEDIAPOLIS 16-25-15-22
Class 2A's 14th-ranked Falcons celebrated Senior Night with a South Division home win over the Bullettes.
Taryn Havener had 20 kills, seven digs and three blocks for the Falcons. Brenna Beggs had 14 kills, four digs and two blocks. Isabella Callison had three kills, five digs and two blocks. Mady Hamelton had two kills, 35 digs and one block. Kyleigh Applegate had two kills and three digs. Taryn Snodgrass had 37 assists, 12 digs, three aces and one block. Carli Cline had 48 digs and three aces. Isabella Blaufuss had 18 digs and one ace.Baylee Woodsmall had seven digs, Brooke Long had two digs. The Falcons were 93-of-93 serving with seven aces.
Haley Steffener had 20 kills and 16 digs for the Bullettes, while Hanna Wagenbach had 17 kills and 17 digs. Brenna Thie had four kills, two digs and two blocks. Ella Russell had seven kills and two digs. Maddy carter had four kills. Jaydon Wirt had 47 assists and 14 digs. Lilly Luttenegger had 24 digs. Macy Steffener had 15 digs and Bryn Wright had two digs.
BURLINGTON GOES 1-2 AT SEC TOURNAMENT
Burlington beat Mount Pleasant, 26-24, 25-22, lost to Keokuk, 26-24, 25-22 and lost to Washington, 25-19, 25-15, in the second round of the conference tournament at Washington.
Sydney Schroeder had 11 kills, 17 digs and one block for the Grayhounds. Daphne Brown had four kills and three blocks. Kiersten Wax had 11 kills, three digs and three blocks. Anna Buxton had 19 kills, 19 digs and one block. Lily Newell had 49 assists, three aces, 19 digs and one block. Sophia Young had four kills, two aces, 16 digs and two blocs. Avery Levins had 45 digs. Ava Fawcett had three digs. Sophia Pettit had four digs. Sela Rascon had six assists and three digs. Giovanna Orr had four kills.
DANVILLE 26-25-25, NEW LONDON 24-19-16
Jaeda Molle had 18 assists and 18 digs and Kenna Furnald had 10 kills and 13 digs in the Bears' South Division win.
Also for the Bears, Kylee Morris had six kills, Micah Svoboda had 16 digs, Nola Oribiana had 24 digs, Taegan Frazier had four kills, Miya Oribiana had four kills and Aleix Dietsch was 4-of-4 serving with an ace.
COLUMBUS 25-25-25, PEKIN 13-14-11
Lily Coil had eight kills, 14 digs, two assists, two aces and one block in the Wildcats' North Division victory.
Also for the Wildcats, Jessica DelRio had six kills and three digs, Kennedy Woepking had three kills and one dig, Aracely Garza had seven kills, six digs and one ace, Daniella Diaz had 29 assists, one ace, two kills and 11 digs, Jocelyn Hernandez had one ace and five digs and Audrey Hoback had one ace, six kills and five digs.
ILLINI WEST 25-25, RUSHVILLE-INDUSTRY 15-15
Josie Bryan had 10 kills and 11 assists in the Chargers' home rin over the Rockets.
Reagan Reed had nine kills and 15 service points with three aces. Madalyn Boyer had eight assists, nine digs, eight service points and three blocks. Corin Robinson had 10 assists and seven digs. Allison Hunter had two blocks.
Illin West (28-4) hosts West Prairie at 6 p.m. Thursday.
CROSS COUNTRY
PEKIN SWEEPS MIKE JAY INVITE TITLES
Pekin won both the boys and girls team titles at the Mike Jay Invitational at Cedarcrest Golf Course in Columbus Junction.
Iris Garza set a school record in the girls' race for Columbus, placing third in 21 minutes, 18.3 seconds.
Van Buren County's Kayley Snowgren and Rylee Phillips finished fifth and sixth, respectively.
Columbus' Ariana Vergara was ninth and Louisa-Muscatine's Hannah Kissell was 10th to round out the top 10.
For the boys, Van Buren County's Lincoln Bainbridge was second in 16:44.4, while Winfield-Mount Union's Kohlby Newsom was third in 17:34.1. Louisa-Muscatine's Ty Miniz was fifth, W-MU's Gabriel Hemsworth was seventh, Gavin Noll of Van Buren County was eight and Columbus' Cade Storm and Ian Estudillo finished ninth and 10, respectively.
WHITAKER, QUINLAN TAKE TITLES AT CHARGERS INVITE
Emma Whitaker of Illini West won the girls race in 21:39 and West Hancock's Parker Quinlan won the boys race in 16:42 at the Chargers Invitational at Carthage, Illinois.
For the West Hancock girls, Bailie Montgomery was sixth, Destiny Huffman was seventh and Sarah Peterson was 10th.
For the boys, West Hancock's Dominick Quinlan was third and Illini West's Chase Mudd was fifth.