Vermont police search for "armed and dangerous" suspect after woman shot, killed on popular trail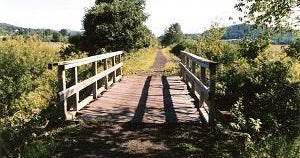 State police in Vermont are investigating after a woman was found dead on a popular trail in Castleton. 
The Vermont State Police called the death "suspicious" in a news release and said that they received a call about a deceased woman on the Delaware and Hudson Rail Trail on Thursday afternoon. Police arrived around 4:30 p.m., where they found the woman dead. 
The victim was identified Friday as 77-year-old Honoree Fleming. An autopsy by the Burlington Medical Examiner's office determined she died from a gunshot wound to the head, state police said. Her death has been ruled a homicide. 
A witness said that they heard gunshots and saw a "possible suspect" walking northbound on the trail, police said. 
The suspect has not been identified but should be considered "armed and dangerous," the Vermont State Police said. The witness described the suspect as a White male, about 5'10", with short, dark hair, who was last seen wearing a dark gray t-shirt and carrying a black backpack. 
The investigation is ongoing. The Vermont State Police Department asked that anyone with information reach out to investigators. In a news update issued Friday morning, the department asked that "the public and businesses in the Castleton area" review surveillance video for anyone matching that description who may have been caught on camera "from early afternoon into the evening hours" on October 5. 
CBS affiliate WCAX reported that the nearby Vermont State University campus in Castleton is closed Friday out of an abundance of caution. The college said on its website that a shelter-in-place order has been issued for students on campus. 
The Delaware and Hudson Rail Trail, referred to as the Rail Trail by police, is a 19.8-mile-long piece of former railroad. There are two sections of the trail in Vermont, separated by a segment of trail in New York state. The trail is open to pedestrians, cyclists and horseback riders.
The incident comes about two months after another woman was found dead on a popular hiking trail in Maryland. No arrests have been made in that case and there is a $30,000 reward.