Toronto FC's road misery continues, blanked 3-0 by New York Red Bulls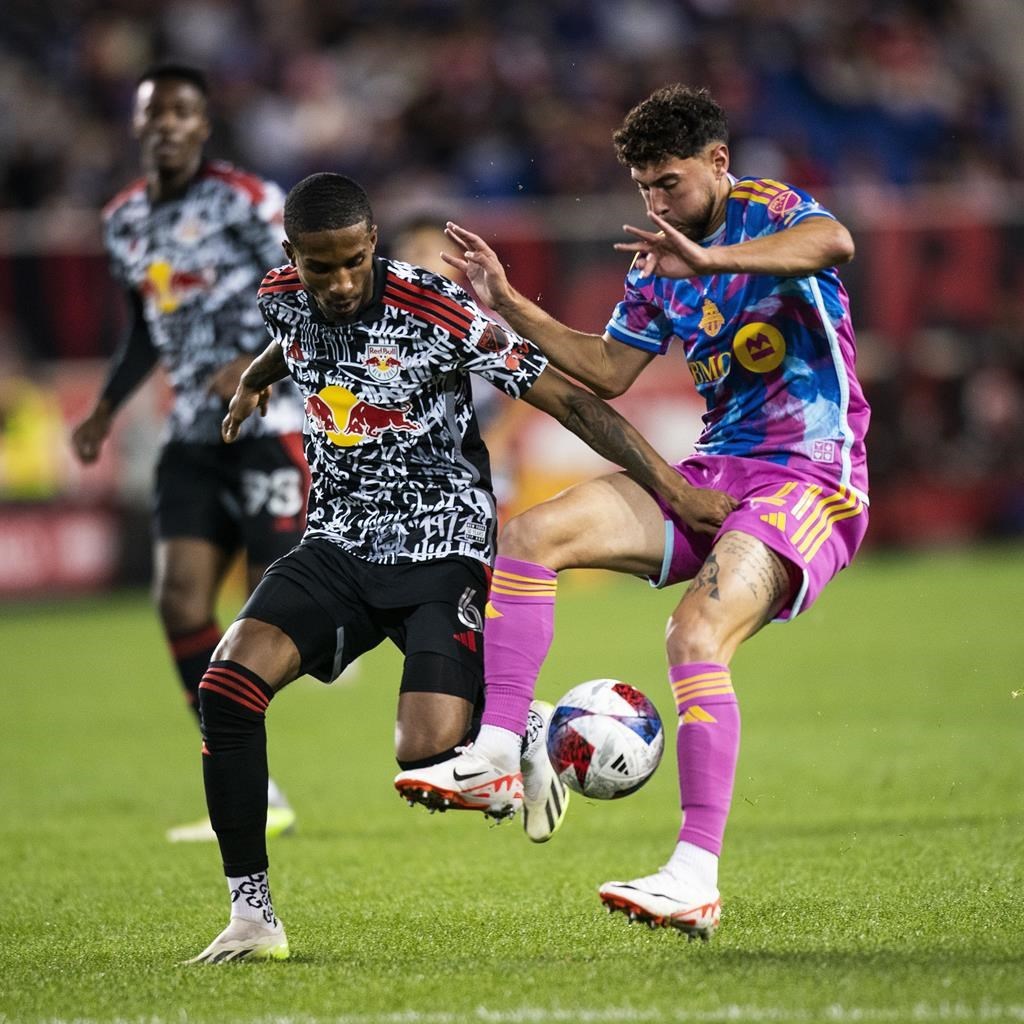 HARRISON, N.J. — Toronto FC's final road game in a miserable MLS season proved to be more of the same. Key players missing. Some positive passages of play. Then what good work that has been done is undone in an instant by a miscue.
HARRISON, N.J. — Toronto FC's final road game in a miserable MLS season proved to be more of the same.
Key players missing. Some positive passages of play. Then what good work that has been done is undone in an instant by a miscue. And a fragile team can't recover, opening the door to more pain.
Bottom line, another loss.
Two goals by Brazil's Luquinhas helped the New York Red Bulls to a 3-0 victory Saturday before an announced crowd of 24,506 at Red Bull Arena as Toronto finished the away-portion of its 2023 league schedule without a single win.
Tom Barlow also scored for the Red Bulls, who needed a victory to keep their post-season hunt alive going into the Oct. 21 final round of the regular season. New York has made the playoffs the last 13 campaigns.
"Obviously at this point, with so many losses, we can't hide from anything," said 23-year-old Spanish midfielder Alonso Coello, one of Toronto's bright spots this season.
"But we've come to a point where everything that can go wrong goes wrong. And even when we might be deserving, as of today, maybe to go to halftime tied, every little mistake we get punished from it.
"So, yeah, I think it's been quite the story for the past three months."
The game at Red Bull Arena marked the 15th and last in charge for interim coach Terry Dunfield. Former Canada coach John Herdman, who was on hand to watch the match, plans to take charge of the team in training next week during the international break and will run the sidelines for the season finale against Orlando City at BMO Field.
Toronto (4-19-10) went 1-14-0 in all competitions under Dunfield with the lone win coming Aug. 30, a 3-1 decision over the visiting Philadelphia Union.
That record simply shows Dunfield is not David Copperfield, able to vanish a perennial loser. And that three-time MLS coach of the year Bob Bradley, fired June 26 with the team's record at 3-7-10, was likely not the root of the problem.
Dunfield, a former TFC player who will serve as an assistant coach under Herdman, deserves credit for his commitment to the cause in difficult circumstances.
He paid tribute to the resilience of his staff: former Canadian internationals Chris Pozniak, Dejan Jakovic and Dwayne De Rosario as well as Taylor Lord, Harry Jamieson and Steve Haines.
"The way we've been continually kicked … and kept going, the staff has been a big part of that," he said.
The Red Bulls spent most of the early going trying to find way to unlock a stacked Toronto defence. TFC looked to defend in numbers and then strike on the counterattack, with Italian Federico Bernardeschi usually leading the way.
But Toronto paid for a mistake in the 45th minute when captain Michael Bradley, playing at the heart of the TFC backline, was caught in possession by Brazilian forward Elias Manoel in the Toronto penalty box. Manoel fed Barlow in front of goal and the Red Bulls forward beat exposed goalkeeper Luka Gavran for his third of the season.
TFC is now 0-17-1 when it concedes first this season.
Luquinhas made it 2-0 three minutes after the break as the Toronto defence was carved open on a rapid-fire counterattack triggered by a Cristián Gutiérrez's giveaway inside the Red Bulls half. Two passes later, Luquinhas surged forward attracting three defenders, but his low shot found the corner of the goal before he was closed down.
The Brazilian midfielder added to Toronto's misery in the 65th minute as the TFC defence was found wanting yet again. The Brazilian, positioned in front of fullback Kobe Franklin, took a fine pass from Kyle Duncan and beat Gavran for his third of the season to complete a seven-pass buildup that started in the New York end when a Toronto attack fizzled out.
At the other end, Red Bulls goalkeeper Carlos Coronel had a quiet night.
Anchored to the bottom of the 29-team league, Toronto has lost six straight and 16 of its last 17 (1-16-0) in all competitions. Excluding the era of breakaway shootout losses, the only MLS team to experience a worse stretch is Cincinnati, which lost 17 of 18 in 2021-22.
Toronto has picked up just four out of a possible 51 points away from home (0-13-4) this season. While it represents the franchise's worst-ever road showing, it also marks the ninth time TFC has won two or fewer games away from home in a season.
Toronto has been outscored 25-0 in its last eight road outings, with its last away goal coming courtesy of Deandre Kerr in the 11th minute of a 2-1 loss at New England on June 24. TFC's road goalless drought now stands at 799 minutes.
TFC's last road victory was Aug. 27, 2022, a 2-0 decision in Charlotte.
The Red Bulls (10-13-10) were a motivated opponent. Going into weekend play, they sat three places and one point below the playoff line with two games remaining. The win moved the Red Bulls into 10th spot, behind D.C. United on a tiebreaker but with a game in hand — finishing up Oct. 21 at Nashville SC.
The Red Bulls were coming off a 2-1 mid-week victory at league-leading Cincinnati and had lost just once in their previous five matches (2-1-2). But they were winless (0-2-1) in their last three home games.
The New Yorkers are now unbeaten in nine straight meetings (6-0-3) with TFC and have won six straight at home against Toronto dating back to 2018.
Gavran, a rookie who started the season as TFC's No. 4 goalkeeper, made his fourth straight start for Toronto. German forward Prince Owusu made his second career MLS start.
The six-foot-six Gavran had little chance on the goals and did his bit to minimize the damage.
Toronto was without the injured Lorenzo Insigne, Themi Atonoglou, Latif Blessing, Adama Diomande, Sean Johnson, Kerr, Greg Ranjitsingh, Sigurd Rosted and Brandon Servania. 
Toronto signed 18-year-old defender Adam Pearlman to a short-term agreement from TFC II to make up the numbers.
This report by The Canadian Press was first published Oct. 7, 2023.
The Canadian Press