Saskatchewan pronoun bill, notwithstanding clause coming later this week: Moe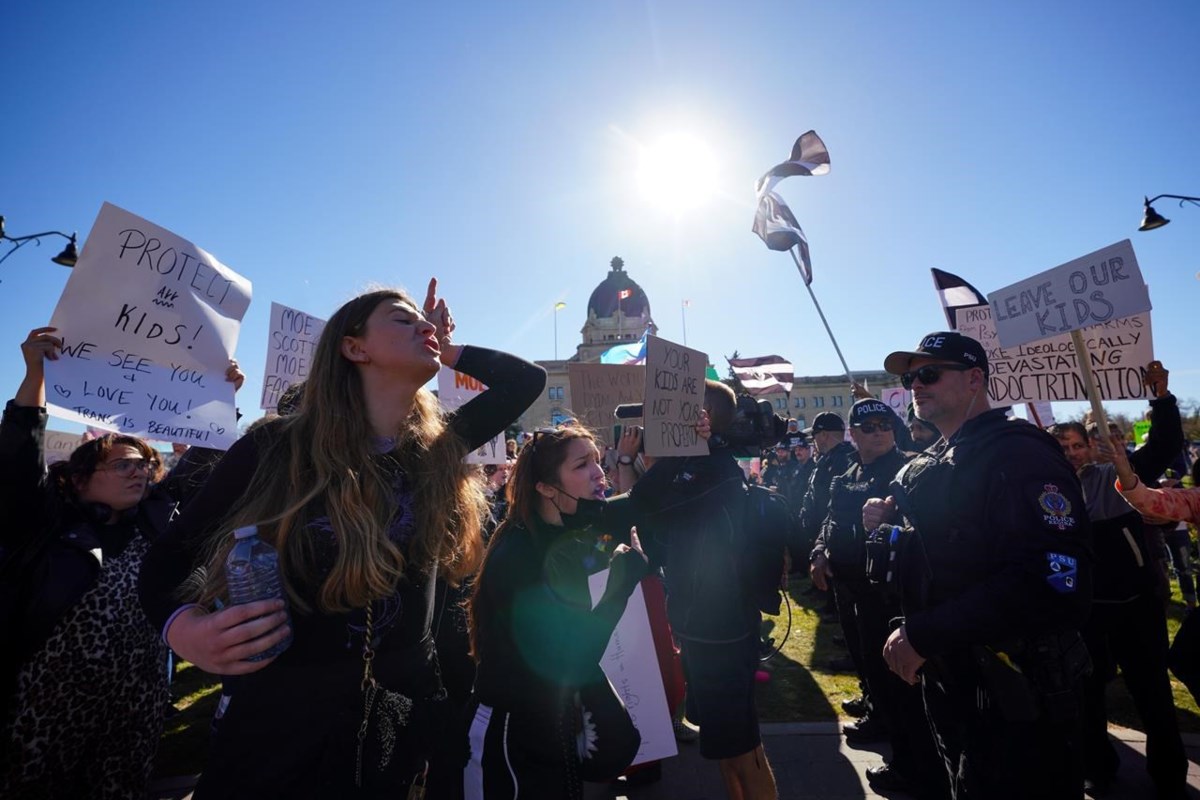 REGINA — The Saskatchewan Party government has to wait until it can introduce legislation over its pronoun policy in schools.
REGINA — The Saskatchewan Party government has to wait until it can introduce legislation over its pronoun policy in schools.
Legislature protocol prevented the government from introducing the legislation Tuesday, as it's required to provide two days' notice.
Premier Scott Moe said the government intends to introduce the legislation later this week.
He said he could not offer details in the bill but that he plans to invoke the notwithstanding clause, a provision that allows governments to override certain Charter rights for five years.
A recent government policy requires children under 16 to receive parental consent if they want to change their names or pronouns at school.
A judge granted an injunction at the end of September, pausing the policy before a constitutional challenge is heard later this year.
More than 100 people gathered in front of the legislature as politicians prepared for question period, many waiving Pride flags and holding signs calling on the premier to protect human and transgender rights.
Others were there to support parents' rights.
At one point, people on both sides shouted at each other: "Leave our kids alone" and "love not hate."
One demonstrator, Alejandra Cabrera, said she believes Moe is overreaching.
"I think he's drunk with power," Cabrera said. "He's making this a political issue when it's a human rights issue."
Larry Rousseau, executive vice-president with the Canadian Labour Congress, said the Charter is meant to protect the rights of everyone, including minorities.
"We must understand that there are children out there who do not feel safe, who feel that maybe they might be able to trust a teacher or someone at school, but not be able to have that discussion at home," he said.
"Parents have rights, absolutely, but so do children."
Tonnie Wells said her group supports the premier's use of the notwithstanding clause.
"We feel that it was an overreach by the judge to put an injunction. This is about our kids," Wells said. "And this is about allowing our children to naturally develop and actually develop who they want to be."
Lawyers for UR Pride sought the injunction, arguing the policy could cause teachers to out or misgender children and that it violates Charter rights. Saskatchewan's child advocate Lisa Broda has also said it violates rights to gender identity and expression.
Moe has said the policy has strong support from the majority of Saskatchewan residents and parents.
This report by The Canadian Press was first published Oct. 10, 2023.
Jeremy Simes, The Canadian Press