Premier promised to 'better engage' PC MPPs after Greenbelt fiasco: sources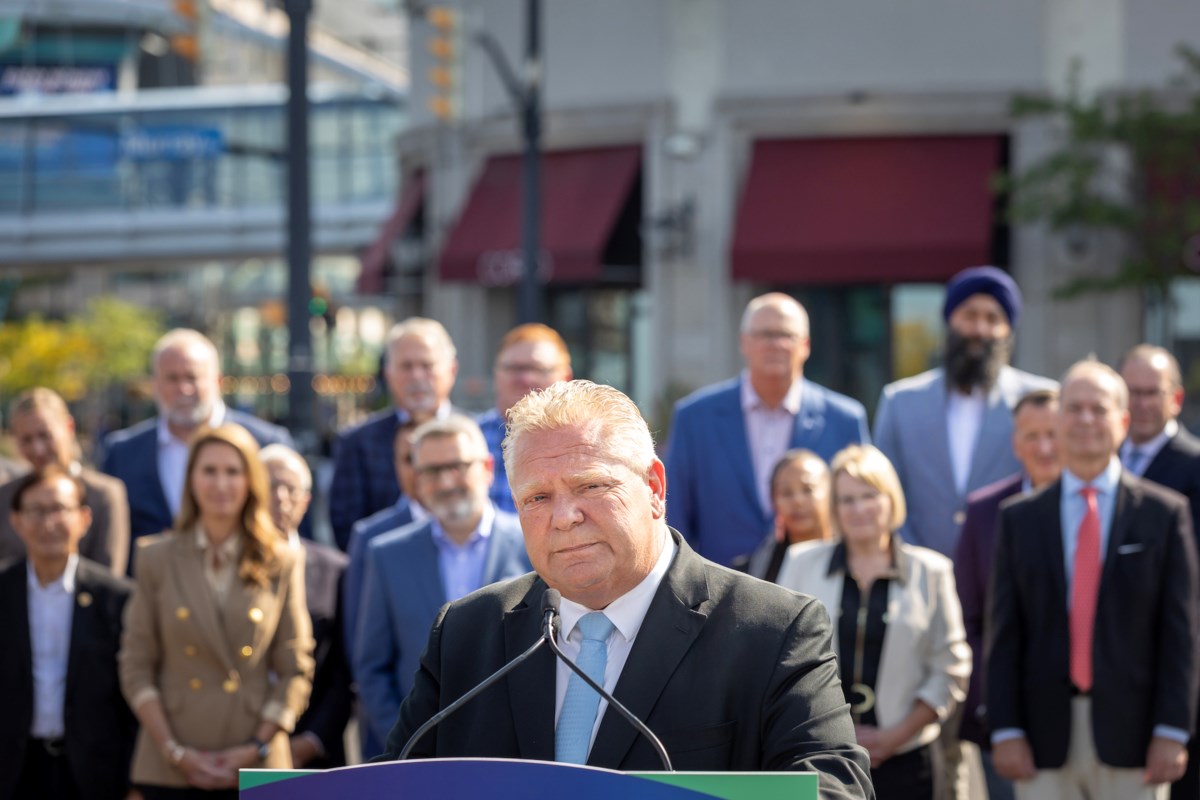 A memo The Trillium obtained shows a 'renewed commitment' Doug Ford made to his caucus amid the decision-making leading to the Greenbelt reversal
EDITOR'S NOTE: This article originally appeared on The Trillium, a new Village Media website devoted to covering provincial politics at Queen's Park.
Shortly before Doug Ford's public about-face on the Greenbelt, his office sent a memo to PC MPPs giving them a heads-up on the decision and making a tacit admission that they should've been more involved in the first place.
It included a promise to better engage the caucus going forward.
"On behalf of the Premier and his office and in the spirit of yesterday's meeting and our renewed commitment to ensure caucus is better engaged and informed, we wanted you to be aware of Premier Ford's decision on the Greenbelt before it is made public," reads the statement, obtained by The Trillium, that two PC MPPs said was sent to them not long before Ford's Greenbelt land-removal climbdown on Sept. 21.
"Reflecting on yesterday's discussions and with his Cabinet today, Premier Ford will announce that our government will return all sites back to the Greenbelt and make clear that we will not remove lands from the Greenbelt in the future," the statement continued.

 

"Our discussion yesterday and your feedback were an important input into the premier's decision and he's extremely grateful for your time."
Soon afterwards, on that same day, Ford held a press conference in Niagara Falls with most of his cabinet serving as a backdrop. He apologized to Ontarians, promising to undo the government's removal of 7,400 acres of land from the Greenbelt.
"I made a promise to you that I wouldn't touch the Greenbelt," Ford said at the announcement. "I broke that promise. And for that, I'm very, very sorry… It was a mistake to open the Greenbelt."
The premier's U-turn came after meetings with his cabinet and caucus over two days.
Ford also said at the announcement that PC caucus members "shared with me what they've heard in their communities" about the government's decision to open up the Greenbelt to developers to build homes.
The Greenbelt controversy has been costly for Ford's PCs, especially since a pair of reports released in August by two watchdogs escalated scrutiny over the government's plan.
Each oversight officer's report was highly critical of the process that the former housing minister's then-chief of staff Ryan Amato led to select lands for removal from the Greenbelt. To much success in many of the cases, the landowning developers — including some with personal ties to the premier or long donation histories to the PCs — directly asked for their acreages to be unprotected.
Two cabinet ministers and two senior staffers, including Amato, resigned between the release of the first watchdog report on Aug. 9 and Ford's walk back two weeks ago.
The controversy has also deeply hurt the PCs in the polls. A survey of Ontarians' voting intention conducted by Pallas Data about a week after the premier's apology found the lowest level of support for the PCs since they were elected to their second mandate.
In his investigation, Integrity Commissioner J. David Wake traced the beginnings of the process to remove land from the Greenbelt to the mandate letter assigned to now-former housing minister Steve Clark by Ford in summer 2022. "In fall 2022, complete work to codify processes for swaps, expansions, contractions and policy updates for the Greenbelt," it said.
The auditor general and integrity commissioner both found that Amato proceeded to tightly determine and control the process of selecting lands for removal. Ford's cabinet — the almost 30 PC MPPs atop the provincial government's ministries — was shown the plan for sign-off on Nov. 2, two days before it was announced.
Before this story was published, Ford's office hadn't responded to an email requesting it confirm the memo and asking other questions, including about how it plans to keep the PC caucus "better engaged and informed."
The Greenbelt affair hasn't been the first time closely controlled decision-making within the Ford government has brought it trouble.
Earlier this year, emails came to light showing that statements from the chief medical officer of health are, at least occasionally, edited by the premier's office. Sometimes, Dr. Kieran Moore is so out of the loop that he doesn't have final sign-off on the communications, chatter in emails between political staffers showed.
Metrolinx's CEO expressed frustration late last year to Ford's chief of staff that the Crown agency had "lost credibility" because of how tightly its communications had been controlled by the premier's office and Ministry of Transportation, Global News reported in July. 
There was also the Speaker vote. Last year, at least 20 MPPs in Ford's PC caucus chose in a secret ballot vote to re-elect Ted Arnott as Speaker of the House over the premier's preferred pick, PC MPP Nina Tangri.
There were consequences for the rebellion.
In a caucus meeting after the vote, in front of a "very upset" Ford, then-house leader Paul Calandra informed MPPs that international trips would be cancelled, question period absence requests would no longer be granted, and phones would not be allowed in caucus meetings. Ministers would also have to answer for themselves in question period — requiring more work on their part and giving parliamentary assistants less of a chance to distinguish themselves.
"(There are) few things the premier likes less than questions around loyalty," one Conservative source said around the time of the Speaker's vote.
Centralized decision-making by Ford's office has been a source of frustration for some PC caucus members in the time since they formed government, The Trillium has been told by a handful of MPPs who've served within it.
Ford's government is expected to follow through with his promise to re-protect land removed from the Greenbelt within the next couple of months. On Thursday, Calandra, the municipal affairs and housing minister, said the government's Greenbelt restoration bill would be tabled on Oct. 16, the day Ontario's legislators return to Queen's Park after their extended Thanksgiving break. 
A Royal Canadian Mounted Police unit specializing in corruption and political investigations continues to review whether there was any criminality to the Greenbelt changes.