Norman "Norm" Sayres | The Hawk Eye – Burlington, Iowa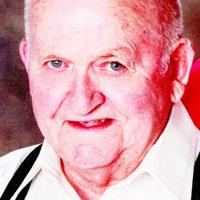 Norman "Norm" Sayres, 96, of West Burlington died at the Klein Center in West Burlington. He was reunited with his wife, Frances, on Oct. 6, 2023, which would have been their 72nd wedding anniversary.
Born Sept. 18, 1927, in Knox County, Missouri, he was the son of Audria Gilbert and Gertrude (Carder) Sayres.
Norm served in the United States Navy during World War II and was a Seaman 2nd Class.
He married Frances Wilkerson on Oct. 6, 1951, at the Little Brown Church in Nashua. She died June 19, 2019.
Norm was a truck driver for Churchill Truck Lines for 25 years, retiring in 1989. He continued to stay active after retirement by delivering semi tractors, hauling anhydrous tanks, and helping with the fall harvest. He shuttled cars for Shottenkirk until he was 88.
He was a member of the V.F.W. 7641 in New London.
Norm enjoyed watching the Iowa Hawkeyes, rodeos, and sprint car races. He also loved to hunt deer and coyote, mostly because that gave him the opportunity to spend time with his fellow hunters, as he loved to visit and share stories. For many years he went to Danville, on an almost daily basis, to drink coffee with the guys and then make a stop at the car lot.
His greatest joy was cheering on his grandchildren as they participated in sports and activities, and attended as many as he possibly could. He also enjoyed following the Soukup twins during their basketball career.
He was very proud grandfather and great grandfather, and was very excited to recently become a great-great grandfather.
Survivors include one daughter Connie Wagner of West Burlington; one son Tim Sayres of New London, Iowa; three granddaughters Heidi (Ted) Pallister of Wapello, Iowa; Kari (Joel) Buck of Danville; and Erin Carson Hickman of Burlington; seven great-grandchildren Ashtin (Layne) Seager; Brentin Pallister; Madelyn, Parker, and Conner Buck; Brayton Carson and Elijah Cox; one great-great granddaughter Quinn Seager; one sister, Carolyn Samberg of Burlington, special friend and caregiver Mary Piper of New London, nieces and nephews.
He was preceded in death by his parents, wife, and son-in-law Cozell Wagner.
The memorial service for Mr. Sayres will be at 10:30 am Friday, Oct. 13, at Lunning Chapel with Pastor Dean Graber officiating. Inurnment will be in Long Creek Cemetery. The family will receive friends one hour prior to the start of the service.
According to Norm's wishes, cremation has been accorded and entrusted to the care of Lunning Chapel.
A memorial has been established for Southeast Iowa Regional Hospice House. Online condolences may be made by visiting www.lunningfuneralchapel.com