Newton and Cansler Repeat at NC Four-Ball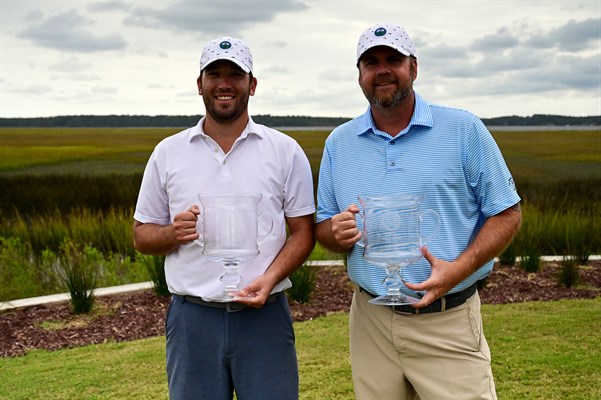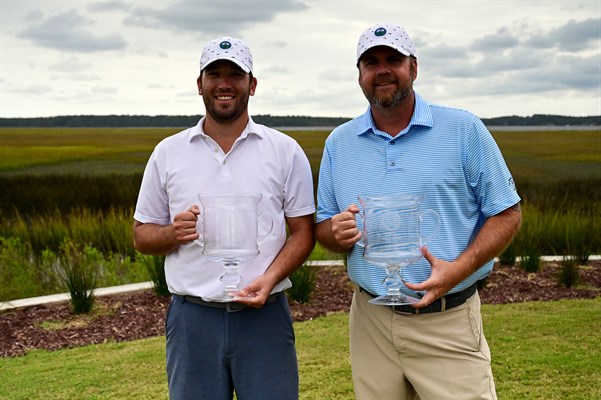 MOREHEAD, N.C. (October 7, 2023) — Final results of the 28th North Carolina Four-Ball Championship at Morehead City Country Club in Morehead City, N.C., on October 7, 2023. The field competed at 6,850 yards (par 36-36–72).
For the second year in a row, after three rounds of four-ball stroke play at Morehead City Country Club in High Point, N.C., Scott Newton of Wallburg, N.C., and Joseph Cansler of Clemmons, N.C., persevered to win the North Carolina Four-Ball Championship with rounds of 64-63-65, 24-under-par overall. It matched the same score as last year's win at High Point Country Club in 2022.
Starting the final round two strokes back of Mark McMillen and Timothy Driver of Holly Springs, N.C., the champs began firing on all cylinders, making birdies on 3, 4, 5, 6, and 8. They would make the turn with a lead that they would never relinquish.
Newton and Cansler have found a great combination as four-ball partners. Newton is the definition of steadiness and can be counted on to record par all day long, while Cansler is, as Newton put it, clutch when needed. A perfect example was Newton with a strong approach shot on the eighteenth, eventually making the birdie putt to seal the win in front of a decent appreciative crowd lining the upper two balconies of the recently opened clubhouse at Morehead City Country Club.
"I would say this course was tougher than last year for several reasons, Scott is a member at Willow Creek, and I used to be a member there, so we knew the course very well, on top of that, I think this is an overall harder golf course, when the wind gets blowing out there it really gets tricky, obviously we're super proud of both of them but this one is really special," Cansler said comparing this win to last years. Newton followed with, "Coming to a course you haven't played, not been familiar with, but I'll tell you every hole is fun out here, we had a good time, it was a grind. I think this was actually more fun than last year."
McMillen and Driver had an explosive day on Friday, firing a brilliant 60 (12 under) to take control of the tournament. They had moments of similar play today but ultimately couldn't replicate the same caliber of their second round. 
The weather was perfect for rounds one and two of the competition, with the final round starting just as lovely. As the leaders lined up putts on the 14th hole, the skies opened up, and the wind beat down. Rain would continue for two holes while the wind would hang around until the hardware was handed out.
"Joe played so good today on the front nine, and I just rode in the cart, I birdied 10, and that got a cushion there, then the weather came over on 16, 17, and 18, and Joe made an unbelievable birdie on the eighteenth hole," said Newton discussing the partnership and play. Cansler added, "When I know he's (Newton) going be on the green, I can fire at those flags, and it just really makes a good combo for making a lot of birdies."
Newton and Cansler had the opening round lead but would return to the course for a late second round tee time and find themselves eleven strokes back of already finished McMillen and Driver, the leaders after moving day. The day two leaders would finish the tournament at 21-under, three strokes back of the champs.
Jerry Richardson and Matthew Crenshaw of Cary, N.C., and Burlington, N.C., put together a strong final round to jump up the leaderboard to finish in third with an excellent 63 to finish at 20-under.
The Carolinas Golf Association would like to thank the members and staff at the beautiful Morehead City Country Club for graciously hosting the 28th North Carolina Four-Ball Championship.
Event: 28th NC Four-Ball Championship
Host Site: Morehead City Country Club, N.C.
Playing Dates: October 5-7, 2023
Social Media: @CGAgolf1909
Final Results: Leaderboard
About the Carolinas Golf Association (CGA)

The CGA is a 501(c)(3) not-for-profit educational organization founded in 1909 to promote and protect the game of golf in the Carolinas by providing competitions, education, support, and benefits to golf clubs and golfers. The CGA is the second largest golf association in the country with over 700 member clubs represented by nearly 150,000 individuals.
The CGA annually conducts 48 championships and five team match competitions for men, women, juniors, and seniors. It also runs over 150 One-Day (net and gross) events and qualifying for USGA national championships. The CGA serves golf in the Carolinas with numerous programs such as: the USGA Handicap System; tournament management software and support; course measuring and course/slope ratings; agronomy consultation; answers about the Rules of Golf, Rules of Amateur Status, and Handicapping; Carolinas Golf Magazine; Interclub series; Tarheel Youth Golf Association; Carolinas Golf Hall of Fame; expense assistance for USGA Junior and Girls' Junior qualifiers from the Carolinas; and the Carolinas Golf Foundation (CGF). The CGF has distributed nearly $2,000,000 since 1977 to benefit Carolinas' golf initiatives, including junior and women's programs.
For more information about the Carolinas Golf Association, follow @cgagolf1909 on Instagram, Twitter, Facebook, and TikTok, or visit our website www.carolinasgolf.org
##30##