Malott has monster match for New London on Senior Night | The Hawk Eye – Burlington, Iowa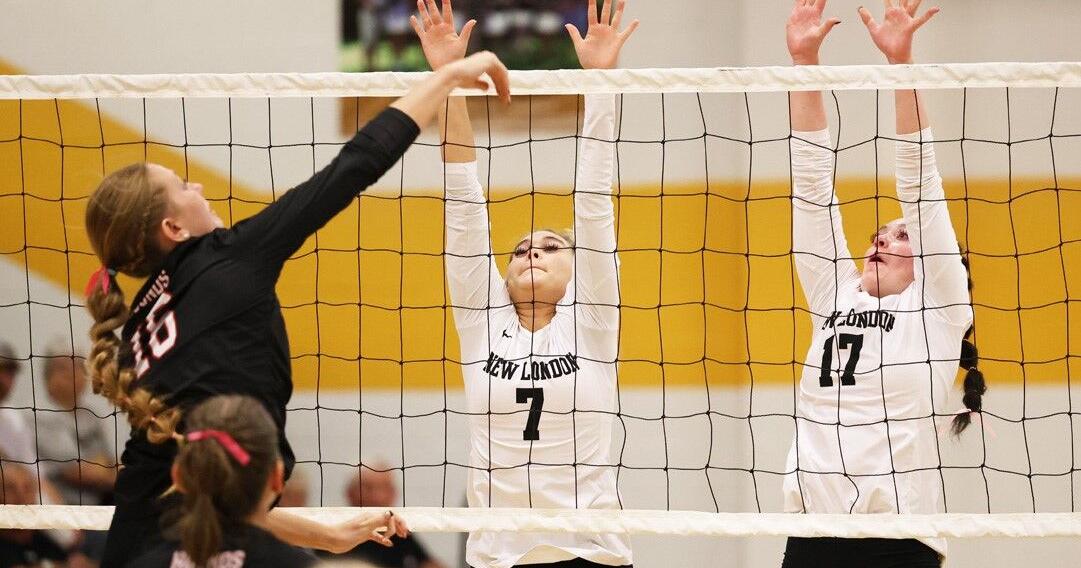 Sophie Malott put down 28 kills to go along with 19 digs to lead the New London volleyball team to a 25-20, 21-25, 25-18, 25-17 victory over Fort Madison on Senior Night Thursday at Charles Lorber Gymnasium in New London.
Morgan Jones, who recently topped 500 career digs, had eight kills, six aces, 22 digs and 20 assists for the Tigers.
Also for the Tigers, Hailee Dudley had six digs, Tysann Gipple had 11 kills and 19 digs, Lillie Gallup had 12 digs, Marlianna Woodsmall had 22 assists, and Kayla Strawhacker had eight digs.
Dayonna Davis had seven kills for the Bloodhounds. Taylor Johnson had four blocks, Elle Ruble had 22 digs, Mara Smith served 15-of-15 and had 26 assists, and Alexus Beebe served 13-of-13.
W-MU 25-25-25, PEKIN 10-16-11
Marianna Piper and Quin Smith each had six kills to lead the Wolves to a home SEI Super Conference North Division win over the Panthers.
Also for the Wolves, Tessa Huston had 10 digs, Aurey Meeker had 10 assists and eight digs, and Jessi Renken had eight assists.
W-MU (17-12 overall, 7-0 North Division) will host Wapello Tuesday for the North Division championship.
CROSS COUNTRY
BHS RUNS AT CENTRAL DEWITT
The Burlington boys cross country team finished eighth with 215 points in the Central DeWitt Invitational.
Joey Jolin paced the Grayhounds, finishing 28th in 17 minutes, 59.84 seconds, Also for the Grayhounds, Aaron Morehead was 33rd, Sam Kitleba was 55th, Carter Shinn was 60th, Mason Fritz was 94th, Edward Bickel was 105th and Aspyn Simmons was 126th.
Katelyn Kobliska led the BHS girls, finishing 73rd in 24:32.78. Macy Ringold was 85th.