Lemon earns 100th sack, Alouettes eliminate Redblacks from playoff contention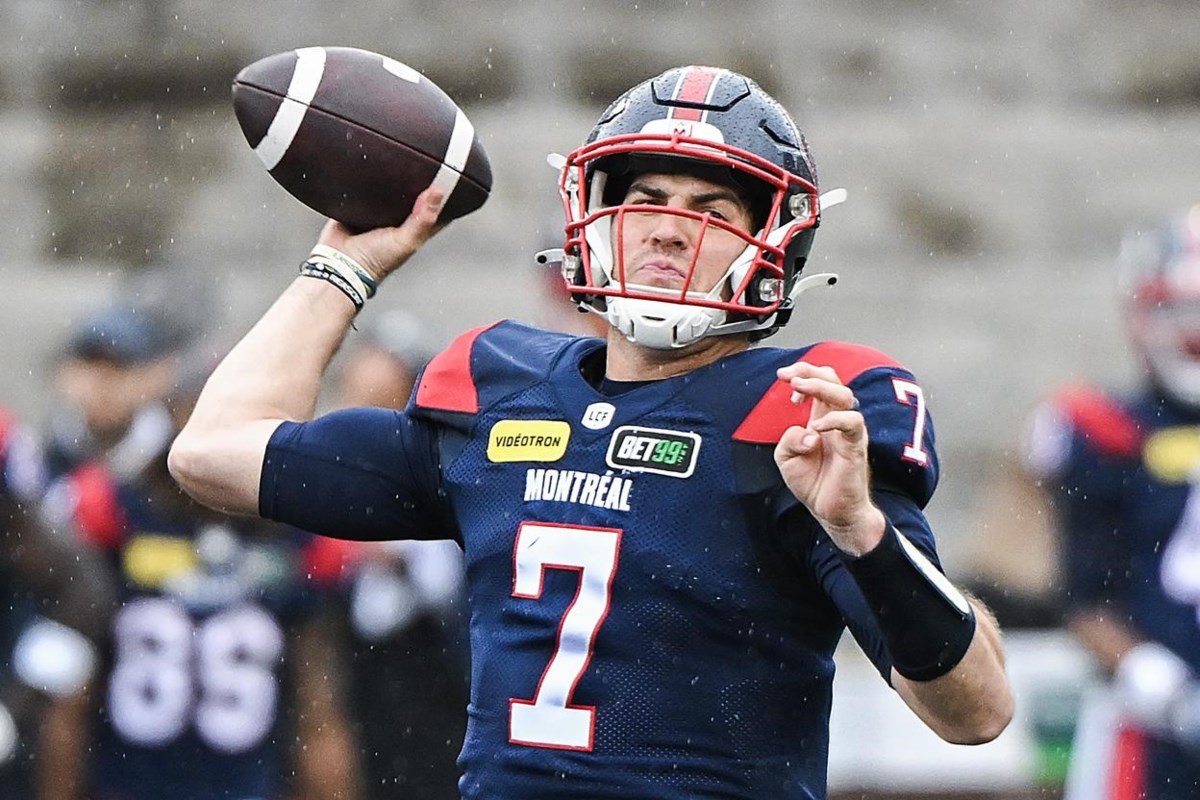 MONTREAL — After sitting on 99 sacks for a game, Shawn Lemon had an added incentive to reach the centennial mark with Mom and Dad making the trip to Montreal on Monday. Lemon secured sack No.
MONTREAL — After sitting on 99 sacks for a game, Shawn Lemon had an added incentive to reach the centennial mark with Mom and Dad making the trip to Montreal on Monday.
Lemon secured sack No. 100 and moved into 13th on the CFL's all-time list as Montreal's defence led the Alouettes to a 29-3 victory over the Ottawa Redblacks on a rainy Thanksgiving afternoon.
The 12-season veteran defensive lineman of Charleston, S.C., said his father always tells him "I'm not making this drive for no reason." 
That was true when they drove together to land a scholarship at the University of Connecticut over a decade ago, and true again on Monday.
"On his way up here this week, he wasn't making that drive for no reason, so you're getting 100 sacks today," said Lemon, sporting a T-shirt with NBA legend Wilt Chamberlain's iconic 100-point photograph printed on the front.
"I'm just thankful," he added about the achievement. "I remember when I was at six sacks, and I got cut from a team that season. I remember when I had 92 sacks in B.C., and I got cut. So this is adversity and persevering and believing in yourself. Believing in yourself when no one else does."
The Alouettes' defence limited Ottawa to 10 first downs, scored a touchdown courtesy of a scoop-and-score by Tyrice Beverette and had six sacks in total. 
Montreal (9-7) needs one more win or one more Hamilton (8-8) loss to clinch second place in the East Division and a home playoff game for the East semifinal.
Ottawa (4-12), which had 180 yards of net offence in the game, was officially eliminated from playoff contention with the loss.
"They're disappointed, obviously, (due to) the stakes of the outcome of this game. And obviously you're not gonna have success when you don't score any touchdowns," said Ottawa coach Bob Dyce. "We knew to beat this team we had to play well in all three phases, and we didn't do that."
Montreal has three defensive touchdowns in its last two games and Alouettes head coach Jason Maas wasn't sure he'd seen a defence produce this much offence in his years in the CFL.
"This is pretty special, what these guys have been able to accomplish, what our defence has been able to accomplish," he said. "It's been very, very impressive."
On offence, Canadian wide receiver Tyson Philpot had one touchdown and 90 receiving yards for Montreal, which completed a four-game sweep of the Redblacks this season. 
Quarterback Cody Fajardo threw 272 yards on 28-for-32 completions to go with one touchdown pass and one interception.
The only thing Fajardo gave himself credit for after the game, however, was his role in adding Lemon to the team back in July. 
The 34-year-old Lemon had signed with the B.C. Lions in free agency but was released midway through training camp before taking weeks to join a new team.
"I'm gonna take a little bit of credit on recruiting him because we were texting back and forth when he was on the street," said Fajardo. "Sometimes it's a little bit awkward when you have a guy come in halfway through the year, but that guy has done nothing but put his head down and worked."
Fajardo said the stellar defence has taken pressure off the offence, and feels the Alouettes are hitting their stride after clinching a spot in the post-season last week.
"I thought that was a full team win tonight, I thought last week was a full team win," he said "We're playing really good football right now which is very important for us going into the playoffs."
Quarterback Dustin Crum threw for 72 yards on 5-for-13 completions for Ottawa before backup Nick Arbuckle took over behind centre midway through the third quarter. Arbuckle had 71 passing yards. Running back Devonte Williams ran 45 yards.
With Montreal kicker David Cote out (hip), Jose Maltos went 2-for-4 on field goals with two rouges in his first CFL regular-season game. Ottawa's Richie Leone was 1-for-1.
A first quarter rouge by Maltos held as the only score of the game until midway through the second quarter.
The Alouettes finally broke through with 6:42 left in the half when Fajardo connected with Philpot on a 38-yard touchdown, making it 8-0 Montreal after the conversion.
Ottawa produced just 75 yards of net offence in the first half, almost as many as the 67 they lost from six penalties. The Redblacks finished with 10 for 106 yards.
"We talked about it at halftime and we didn't do a good enough job in the second half," said Dyce. "We're one of the least penalized teams in this league, and so it's not very characteristic of how we normally play. So that was disappointing as well."
As Ottawa's struggles continued into the third quarter, Montreal took control of the game.
The Alouettes added to their lead at 6:02 of the frame as backup quarterback Caleb Evans' one-yard TD run capped a 102-yard drive
Up 19-0 in the fourth quarter after another Maltos rouge, Beverette returned an Arbuckle fumble 34 yards to the end zone at 10:37 to put the game well out of reach.
UP NEXT
Montreal plays Saturday in Edmonton. Ottawa continues its road trip with a game Saturday in Toronto.
This report by The Canadian Press was first published Oct. 9, 2023.
Daniel Rainbird, The Canadian Press