La Moine Brass Quintet dazzles Grand Theatre audience | The Hawk Eye – Burlington, Iowa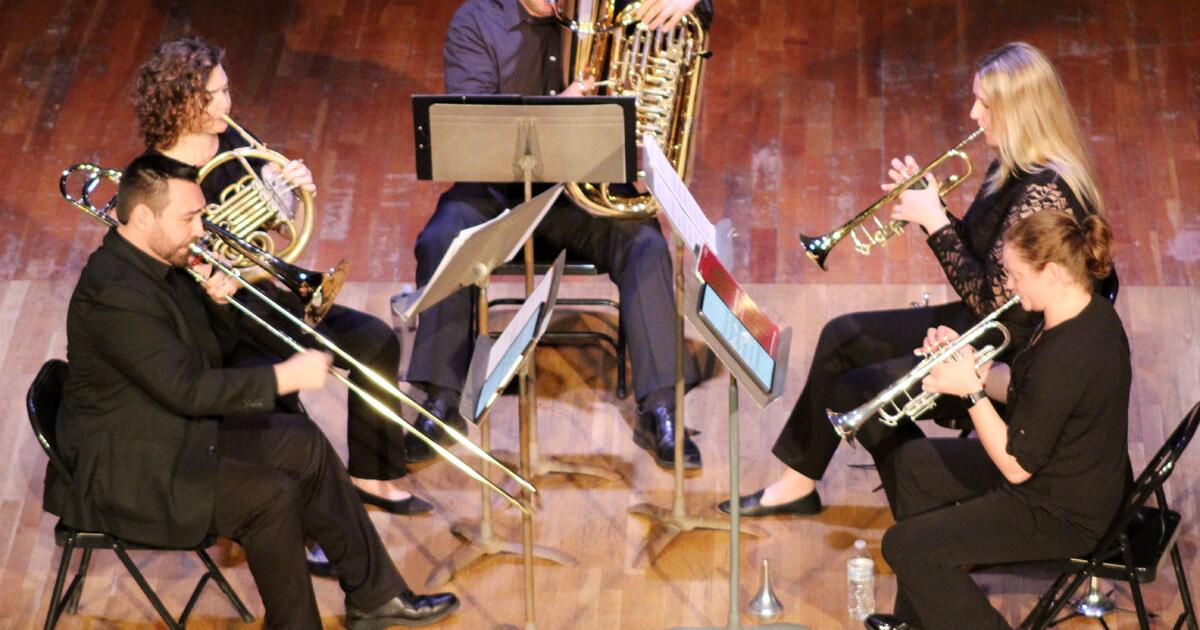 KEOKUK – The resident faculty brass quintet of the School of Music of Western Illinois University (WIU), the La Moine Brass Quintet (LBQ), gave an exceptional performance at Keokuk's Grand Theatre on the afternoon of Sunday, Oct. 8. The quintet is the resident faculty brass quintet at WIU, and their varied program ranged from standard brass quintet works to contemporary works that reflected the many moods of brass quintet and solo music.
The performers were: Dr. Jena Gardner, horn; Dr. Nicole Gillotti, trumpet; Dr. James Land, tuba; and Dr. Jett Walker, trombone. These WIU faculty musicians have an international reputation for excellence in solo and ensemble performance. The fifth member of the quintet was Rebecca Hari, trumpet studio graduate assistant and first-year master's degree student. These performers were performing together for only the second time, but one would never have guessed that.
They started with "Smoky Mountain Fanfare for Brass Quintet" that was an attention-getter and set the stage for what was to follow.
"Suite Impromptu" by Andre Lafosse, a trombone player and teacher at the Paris Conservatory, contained four contrasting movements – i. Epithalame (basically meaning "poem"), ii. Marche, iii. Elegie (with quite a bit of dissonance, but a very peaceful resolution) iv. Mouvement (that showed an almost playful spirit and came to an abrupt, but fun resolution).
The Canadian Brass is well know to brass quintet enthusiasts and the LBQ's rendition of some favorite "Canadian Brass Favorite Quintets" was exceptionally well received: i. Rondeu (Mouret), ii. Andante from Trumpet Concerto (Haydn), and iii.Farandole from L'Arlesienne Suite No. 2 (Bizet).
After "When the Clouds Break" by Cait Nishimura, three of the quintet demonstrated their solo prowess on their respective instruments. Trumpet instructor Nicole Gillotti first of all captured the audience by joking about this being her first time in Iowa (and that she was liking it so far), and then dazzled the audience with "One Man Blues Band" for unaccompanied trumpet.
She was followed by hornist Jena Gardner with "Tanguito" for horn alone, which she said used a tango as the basic rhythm and was unusual in that it featured the lower register of the instrument. Indeed it did! And having played horn for 40 years or so, I wondered if she had an octave key added to her horn, what with all the flawlessly executed octave drops and leaps back to the melodic line.
She was followed by "Elegy for Mippy II: for solo trombone," composed by Leonard Bernstein and performed by trombone instructor Jett Walker. Mippy, he explained, was a family dog and one could imagine it "laying in front of a fireplace, wagging its tail as life happened around it." Needless to say, the audience was totally awed by the musicianship each of these faculty members displayed!
A piece called "Gravity" was introduced by the reading of a poem by the African American poet Langston Hughes, known as a leader of the Harlem Renaissance. Hughes "wanted to tell the stories of his people in ways that reflected their actual culture, including their love of music, laughter, and language, alongside their suffering." [poets.org/poet/langston-hughes]
Dr. James Land expressed appreciation for being invited to perform in the Grand Theatre and stated that they had begun the program with a fanfare and were closing it the same way, this time with the "Grand Valley Fanfare" of Eric Ewazen. It was a great ending to a well planned and superbly executed performance.
The concert was in memory of Carol Lynn Williams, longtime area music educator and an active member of the Keokuk Concert Association since 1965, for whom she served as treasurer for over 35 years. Williams passed away on Oct. 26, 2022, and left her impression on generations of area musicians. She had been the elementary music supervisor for all the seven elementary schools in Keokuk, and had taught for many years in various school systems, to include in Illinois and Missiouri.
Active in the community, she was a member of the K. Tones, ACES, past president of AAUW and Chapter U, PEO. She was a 60-plus year member of the Order of the Eastern Star where she served as Worthy Matron, secretary and all the Star Points. In 2018 she was appointed as Grand Representative to Pennsylvania Order of the Eastern Star.
She was very active in her music ministry and served as church pianist for 30 years. She also had the distinction of being the first woman instrumentalist in McNamara's Band, with whom she played for over 50 years.
It was fitting that "her" Keokuk Concert Association presented such a fine quintet in the Grand Theatre, a venue she loved, during the month of the first anniversary of her passing. May she rest in peace knowing her influence lives on.