Judy M. Bye | The Hawk Eye – Burlington, Iowa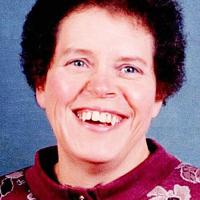 Judy M. Bye, 76, of Mediapolis, formerly of Fort Madison died Friday, Oct. 6, 2023, at the Azria Prairie Ridge and Rehabilitation Center in Mediapolis.
Born on July 29, 1947, in Fort Madison at her grandmother's home, she was the daughter of Joseph and Dollie (Powell) Rohmer. She married Larry Bye on Aug. 15, 1964. They later divorced.
Judy began her career as a carhop for A&W in Fort Madison and later began working for Sheaffer Pen Company for many years.
She was a member of the Santa Fe Methodist Church in Fort Madison.
Judy was a master seamstress, sewing most all her own clothing. She enjoyed crafting and reading science fiction.
She was proud to tell all about how she was an identical twin. Judy and her identical twin sister Jane would wear matching clothes well into their adulthood and would love to sing and dance together. She loved her family and time spent with them was of utmost importance to her.
Judy is survived by her two daughters; Lavonne (Rodney) Fogle of West Burlington and Leanne Krogmeier of Burlington; four grandchildren, Schylar Fogle, Jarod Fogle, Lauren Krogmeier and Caleb Krogmeier; two great-grandchildren, Averi Dixon and Theodore Fogle; niece Joy (Jon) Bembenek, who was more like a daughter to her than a niece and two sisters, Dollie Mahalic of Burlington and Joelean (Winston) Harl of South Carolina.
She was preceded in death by her parents, daughter Jane Marie in infancy and her identical twin sister Jane Rohmer.
The funeral service for Judy will be 6 p.m. Tuesday, Oct. 10, at Lunning Chapel. Pastor Don Combs will officiate. Visitation will be held from 4 p.m. until the time of service on Tuesday at Lunning Chapel.
Inurnment will be held in Hillcrest Memorial Cemetery, Fort Madison, at a later date.
A memorial has been established for the Alzheimer's Association.
Online condolences may be made by visiting www.lunningfuneralchapel.com