High-stakes boys soccer matches on tap | Slider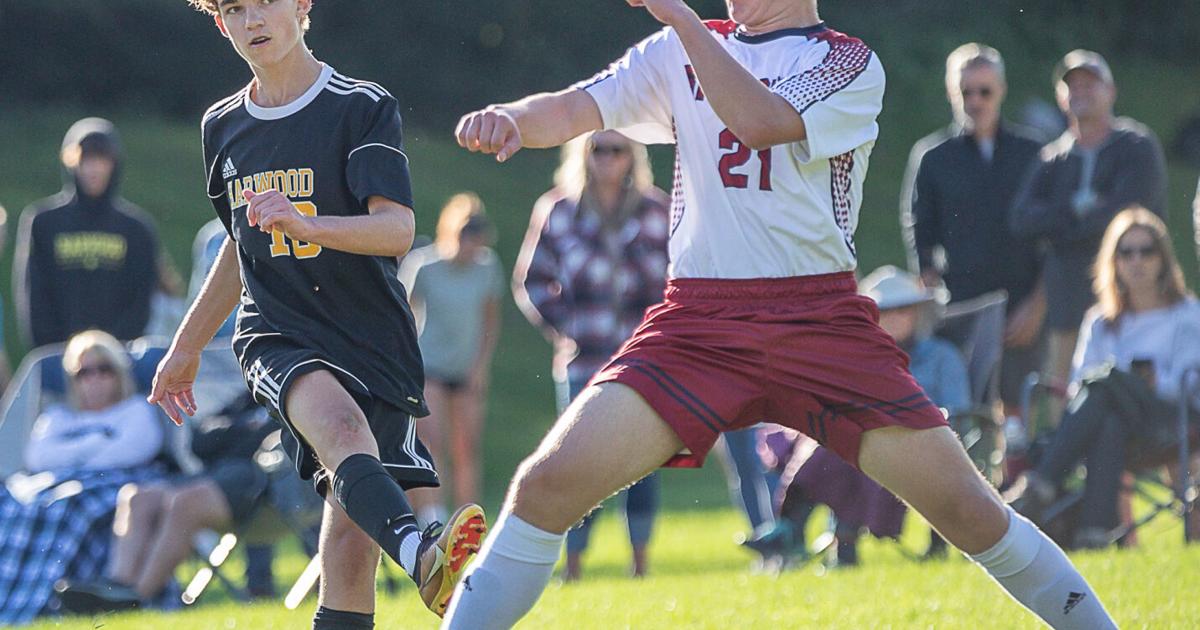 The Metro and Capital Divisions saved some of their best boys soccer matches for last this season, making it a perfect time for fans to get outdoors and see for themselves what all the buzz is about.
Some perennial powers enjoyed a soft opening against lesser-skilled squads before diving head-first into their league schedules. The final two weeks of the regular season could pose the toughest challenges of the fall — and that's exactly how some coaches want it.
Top-ranked CVU will attempt to avenge its only loss of the season when it hosts Mount Mansfield. And then the Redhawks will turn right around and face reigning Division I champ South Burlington before traveling to play 2022 runner-up Colchester. The Lakers eliminated CVU with a 2-0 victory in last year's semifinal, so the opportunity for payback could be an X-factor in the rematch.
South Burlington and Colchester join CVU in a dogfight for the top seed in the post-season, but all three could fall from their precious perch with a few mis-steps down the stretch. The Wolves kick off the week with a long bus ride to St. Johnsbury and are also prepared for road games at Colchester and Burlington. The Lakers will host the Seahorses at 10 a.m. Saturday in another match that could have a big impact on the final seedings.
While all eyes are on Chittenden County squads in D-I, some big matches in Washington County will shape the playoff hierarchy in D-II and D-III. Montpelier has conceded one goal all season and is protecting a 26-match undefeated streak despite graduating its top two scorers from last year. The defending D-II champs are in a privileged position where they could tie or even lose a game and still lock up the top seed for the post-season. Home games under the lights Friday against Stowe and Monday against Harwood are likely to attract some of the biggest crowds of the year at the Capital City stadium.
U-32 will wrap up the regular season with back-to-back matches at Harwood and Stowe. The Raiders have pieced together one of their best records in program history and will be in the hunt for their first title since 2015. The five-time champs were eliminated by Montpelier the past two seasons, while MHS has ousted Harwood for three years in a row. It's possible that history could repeat itself, but the Raiders and Highlanders are on a mission to send the Solons packing once and for all.
Here is a fresh batch of Rutland Herald/Times Argus power rankings with playoffs just around the corner:
1. CVU (9-1) The Redhawks have outscored opponents 34-2 during their nine-game winning streak. William Wallace (two goals, one assist) and Chandler Turner (one goal, one assist) led the way during a 7-0 victory over BFA-St. Albans.
2. South Burlington (8-1) Hammad Ali (two goals, one assist), Oliver Bostwick (one goal, one assist) and Connor Maxwell (one goal, one assist) guided the Wolves during an 8-1 victory over BFA-St. Albans.
3. Colchester (7-1-1) Demunga Alfani scored in a 1-1 draw with Mount Mansfield and goalie Xander Berthiaume recorded 11 saves. An unforgiving final stretch will be a solid litmus test for CHS prior to playoffs.
4. Burlington (8-2) A come-from-behind 4-3 victory over St. Johnsbury allowed the Seahorses to extend their winning streak to three games. Sunny Nguyen (two goals, one assist) and Quinn Sessions (two goals) powered the offense agains the Hilltoppers and keeper Liam Hand made four saves.
5. Burr & Burton (7-2-1) The Bulldogs' 2-1 victory over Mount Mansfield was a crucial result that could set the stage for a home quarterfinal match.
6. Mount Mansfield (3-5-2) The Cougars held a 12-4 edge in shots during a 1-1 draw with Colchester before shutting out Essex, 5-0. Nate Zabilanksi scored twice against the Hornets and teammate Cameron Brinegar registered a five-save shutout.
7. Harwood (5-1-2) Zach Smith buried two goals in the opening 88 seconds during the Highlanders' 11-0 victory over Hazen. HU hasn't won a title since 2018 but clearly has the size, speed and skill to hoist the top prize next month.
8. Montpelier (8-0) Josiah Phillips has scored in every match and goalie Brio Levitt has allowed one goal all season to help the Solons extend their unbeaten streak. Montpelier will attempt to lock up a title berth for the fourth year in a row.
9. Stowe (9-1) The Raiders haven't brought home a trophy since 2019 after winning eight championships in a row. Stowe beat Milton twice at the start of the season and shut out Lake Region, 2-0, on Saturday.
10. U-32 (8-1-1) A 1-0 victory over defending D-III champ Peoples Academy was one of the Raiders' best results, along with a scoreless tie vs. Burr & Burton and a 7-1 win over Randolph. Shiloh Weiss has led the Raiders offensively, but he's far from the only lethal scorer on the squad.
BUBBLE: St. Johnsbury (3-5), Middlebury (6-2-2), Stratton (4-0), Rice (5-4-1), Peoples (6-3-1)
DIVISION I TOP 5
1. CVU (9-1) 2. South Burlington (8-1) 3. Colchester (7-1-1) 4. Burlington (8-2) 5. Burr & Burton (7-2-1)
DIVISION II TOP 5
1. Montpelier (8-0) 2. Harwood (5-1-2) 3. U-32 (8-1-1) 4. Middlebury (6-2-2) 5. Stratton (4-0)
DIVISION III TOP 5
1. Stowe (9-1) 2. Peoples (6-3-1) 3. Randolph (8-1) 4. BFA-Fairfax (5-4) 5. Enosburg (6-3)
DIVISION IV TOP 5
1. Twin Valley (9-0) 2. Grace Christian (6-3) 3. Winooski (5-3-1) 4. Rivendell (5-4-1) 5. Richford (5-3)