Harwood wins bass fishing championship | Sports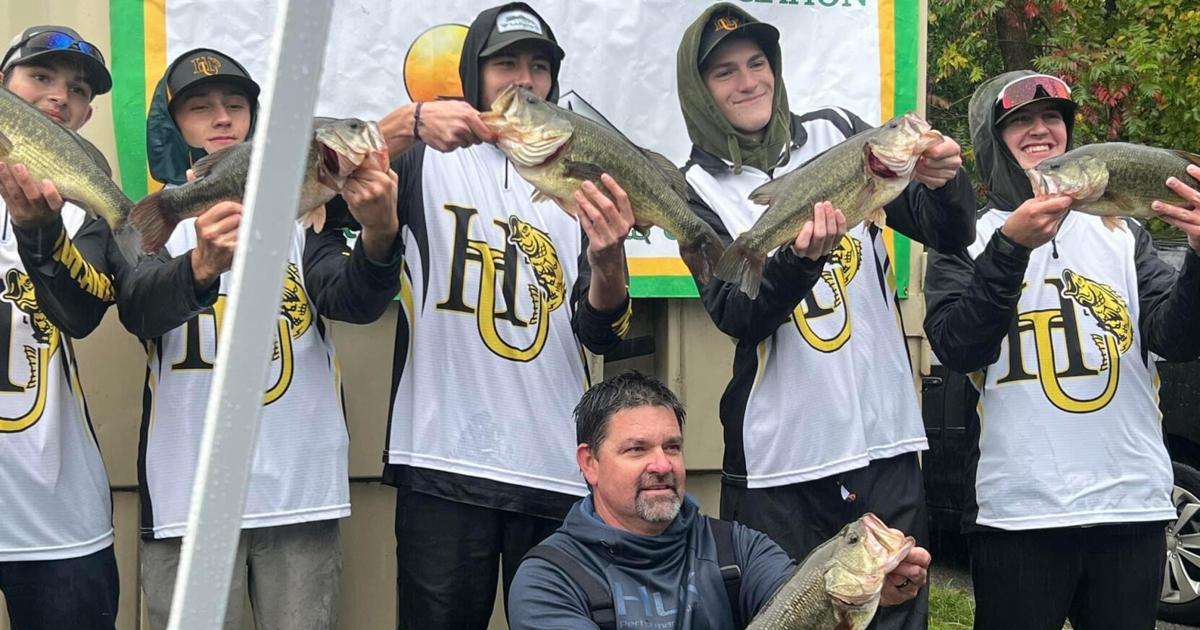 Lots of early-morning practices paid off for the Harwood bass fishing team, which set a new state record during Saturday's state championships on Lake Champlain in South Hero.
Varsity anglers Nate Conyers, Caleb Durand, Sid Ritzinger and Jackson Palermo combined efforts to reel in the limit of six largemouth bass despite soggy early-October conditions. Their haul weighed a total of 29.99 pounds to steal the show and shatter the state record.
All four Highlanders on the varsity boat are juniors, giving HU coach Scott Green plenty of optimism looking ahead to next year.
"When we had practice days before the event, the team met and formulated their strategies for this event," Harwood coach Scott Green said. "I could not be prouder of the leadership on this team and the dedication that has been put into learning — with 15 team members that have been part of this win. We are looking to be very competitive in the future."
Durand won the individual lunker award by catching a largemouth bass that weighed 5 pounds, 5 ounces. The varsity squad also features Jordan Farr, Acer Thompson, Tyler Bravin, and Sawyer Popowicz. The Highlanders' JV anglers are Ryan Lacey, Wyatt Babic, Andrew Achilles, Jack Sherman, Kai Eckstein, Landen Ball and Alden Pomerantz
The Highlanders became the sixth school to walk away with top honors at the state meet in the six years that bass fishing has been a varsity sport in Vermont. Colchester won the first crown in 2018, while the subsequent winners were Randolph, White River Valley, Quarry Valley and Middlebury.
This year Middlebury captured runner-up honors after collecting five smallmouth and one largemouth bass. Tigers Dylan Stowe and Riley Disorda finished with a weight of 21 pounds, thanks to a largemouth weighing 4.07 pounds and a smallmouth lunker weighing 4.91 pounds.
Quarry Valley, a cooperative team with anglers from West Rutland and Proctor, placed third Saturday with a six-fish combination weighing 20.35 pounds. The Golden Horde and Phantoms combined efforts to catch six smallmouth bass, including one weighing 4.1 pounds. Bryan Godda and Gibson Wink were the top varsity fisherman for Quarry Valley.
Milton wound up fourth with three largemouth and three smallmouth that added up to 19.15 pounds. The Yellowjackets' biggest prize was a 4.63-pound largemouth. Fifth-place Richford caught six largemouth weighing a total of 16.04. The Falcons returned to the boat launch with a 3.26-pound largemouth.
Fifteen junior vanity teams also competed at the event, with anglers arriving at daybreak and heading out on boats equipped with live wells. If teams reached the maximum of six fish, competitors were able to replace smaller fish with bigger fish in order to boost their total weight. The fish were released back to the water after the weigh-in session.
"We had put so much practice time into this event, looking at all the different weather conditions, falling water temps, wind and rain mixed in with (bait) movement," Conyers said. "Fall is a time of transition, and these fish move with the bait to feed up before the winter."
TEAM RESULTS
1. Harwood 24.99 2. Middlebury 21 3. Quarry Valley 20.35 4. Milton 19.15 5. Richford 16.04 6. Blue Mountain 15.59 7. Rice 14.64 8. Thetford 14.59 9. Burr & Burton 14.1 10. Lamoille 13.62 11. Essex 12.37 12. CVU 11.93 13. Burlington 12.9 14. Mt. Abraham 10.8 15. Vergennes 9.93 16. White River 8.28 17. Hartford 4.91 18. Randolph 3.4 19. South Burlington 1.71 20. North Country 0 20. Mt. Mansfield 0