Halloween Hoot is festive not frightening | The Hawk Eye – Burlington, Iowa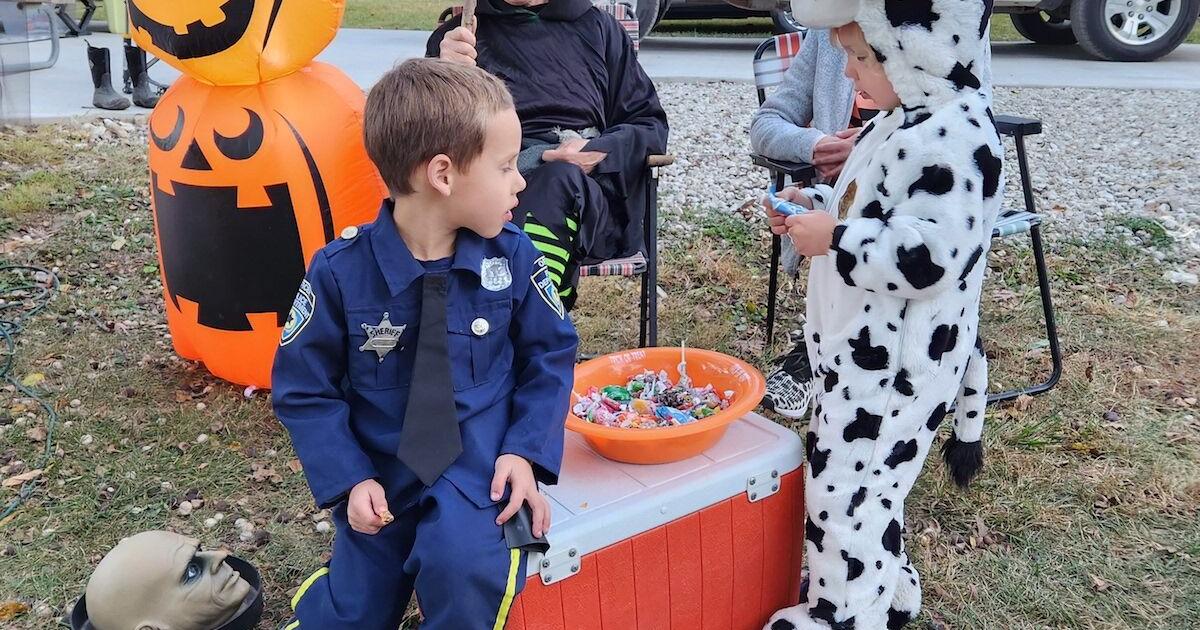 WEST POINT – Picture this: It's approaching twilight on a crisp, early October Saturday evening.
Visitors to the Pollmiller Park campground walk down the road to the campgrounds to do some trick-or-treating. But there's a rustle in the undergrowth and brush just off the path.
They stop and look and listen and continue on their way, even as the rustling seems to follow them.
They look back. Could it be something spooky or scary? That depends on how frightening people think local wildlife might be.
Lee County Conservation's Halloween Hoot was held at Pollmiller Campground Saturday evening and boasted all sorts of things for families to enjoy.
Before heading into the campgrounds, people could check out a fire truck and ambulance, play some games and do some activities.
Many children and adults were dressed up in costumes and stopped for a photo opportunity before heading to the campgrounds.
This is the second year for the Halloween Hoot, which was a rousing success last year. This year seemed much the same as many campsites were decorated with a Halloween flair.
Those camping at the sites also dressed up in costumes as they passed out candy and treats. Some sites went for a simple but effective style, some went all out. There were people playing volleyball and grilling and the mood seemed festive and fun — not frightening.
Also held on Saturday — at 5 a.m. — was the LCC youth duck hunt at Heron Bend Conservation Area.
Coming up on the Lee County Conservation calendar, on Sunday, Oct. 15 is a Field to Freezer Workshop at 2 p.m. at Wilson Lake Park.
On Saturday, Oct. 21, a horseback ride through Shimek State Forest is planned at 2 p.m.
Get ready for a Zombie Apocalypse Fun Run at 5:30 p.m. Saturday, Oct. 21 on the Pollmiller Park trail.
The annual chicken dinner fundraiser will be 3:30-7 p.m. Saturday, Nov. 5 at Charleston Board of Trade.