Grayhounds outlast Clinton to earn homecoming win | The Hawk Eye – Burlington, Iowa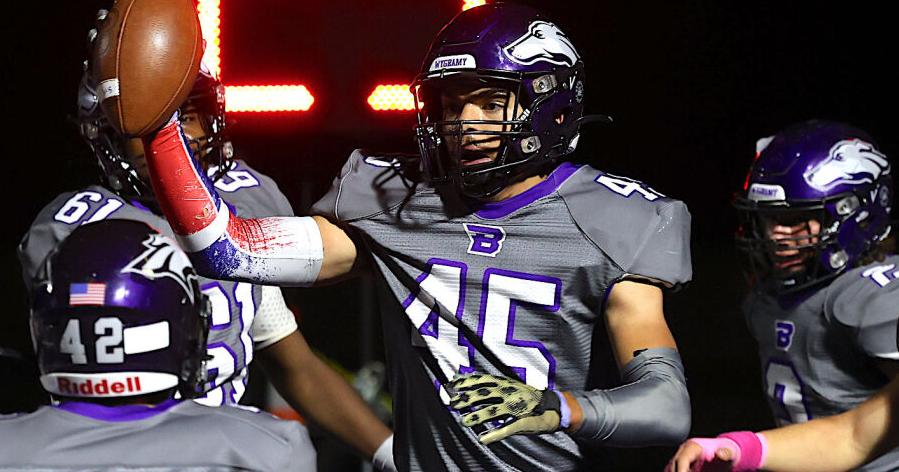 It was a race to the victory bell.
And it was only fitting that Burlington High School's Gabe Robinson was leading the way.
The senior quarterback accounted for three touchdowns before classmate Caden Schisel delivered the winning score as the Grayhounds held off Clinton 28-21 on Friday night at Bracewell Stadium.
BHS improved to 3-4 with the homecoming victory on a cool, blustery evening.
"It was amazing to pull it out, especially on homecoming." Robinson said. "I couldn't wait to get over there to the ring the bell – I had to make sure I was one of the first ones there. It was great to share that with my teammates and all of the students."
It was a back-and-forth, hard-fought battle with huge momentum swings.
"We challenged our kids to be mentally tough at the end of the game," Burlington coach Jim Krekel said. "The kids took that to heart and played really well at the end to finish it off."
BHS stormed to a 21-0 first-half lead before the winless River Kings stormed back to tie the football game in the second half.
That's when Schisel stepped up to make the play of the game, breaking loose on a 69-yard touchdown scamper.
That gave the Grayhounds a 28-21 lead with 46 seconds left in the third quarter.
"That was the best feeling in the world," Schisel said of his TD run. "We were close to breaking a big run before that and then we finally got one. Our line blocked great – they deserve a lot of credit."
But Clinton came right back, driving deep into Burlington territory twice in the fourth quarter before failing to score.
The River Kings lost a fumble on the BHS 1-yard line and then drove to Burlington's 5 before a fourth-down pass fell incomplete.
"We made some big stops on defense," Schisel said. "We wanted to make sure the game didn't go into overtime. Everybody stepped up and got the job done."
Schisel then iced the win by rushing for a first down. The senior standout piled up a season-high 208 yards.
Robinson ran for 117 yards, including two touchdowns in the first half.
He also connected with senior Salomon Cordero on a 23-yard scoring pass in the first quarter.
"I ran down the field and I was wide open – there was nobody near me," Cordero said. "I thought Gabe might run it, but then he tossed it to me. It was a perfect pass and an easy catch. Gabe did a great job finding me."
BHS amassed 428 yards of total offense, including 376 on the ground.
"Gabe and Caden were lights out, and the line blocked great for them," Krekel said. "They really stepped up when we needed them to. I'm proud of everybody for how hard they competed."
Clinton fought valiantly the entire game before falling to 0-7 overall after the Class 4A district football setback.
"Our defense saved us," Schisel said. "Clinton came back and tied it, but we didn't want to lose our homecoming game. Pulling this game out and ringing the bell, it's the best. It was amazing to see all the support we had."
River Kings quarterback Jaxon Spooner passed for 141 yards and a pair of scores in a matchup of former Mississippi Athletic Conference foes.
Clinton running back Collin Fullick was superb, rushing for 141 yards and one touchdown.
"Give the players and coaches from Clinton a ton of credit," Krekel said. "They played really hard and competed well against us. It was a great ballgame. We finally came out on top in a close game."
Krekel had a huge smile on his face when he joined his players at the victory bell late Friday night.
"That's never going to get old, even though I'm almost 60," he said with a laugh. "It is awesome to see all of the students come together after the game like that. They were so excited.
"The kids have fun with it. It is something awesome that they get to experience, ringing the bell after winning a big game like that."