Girls teams peaking for the postseason | Slider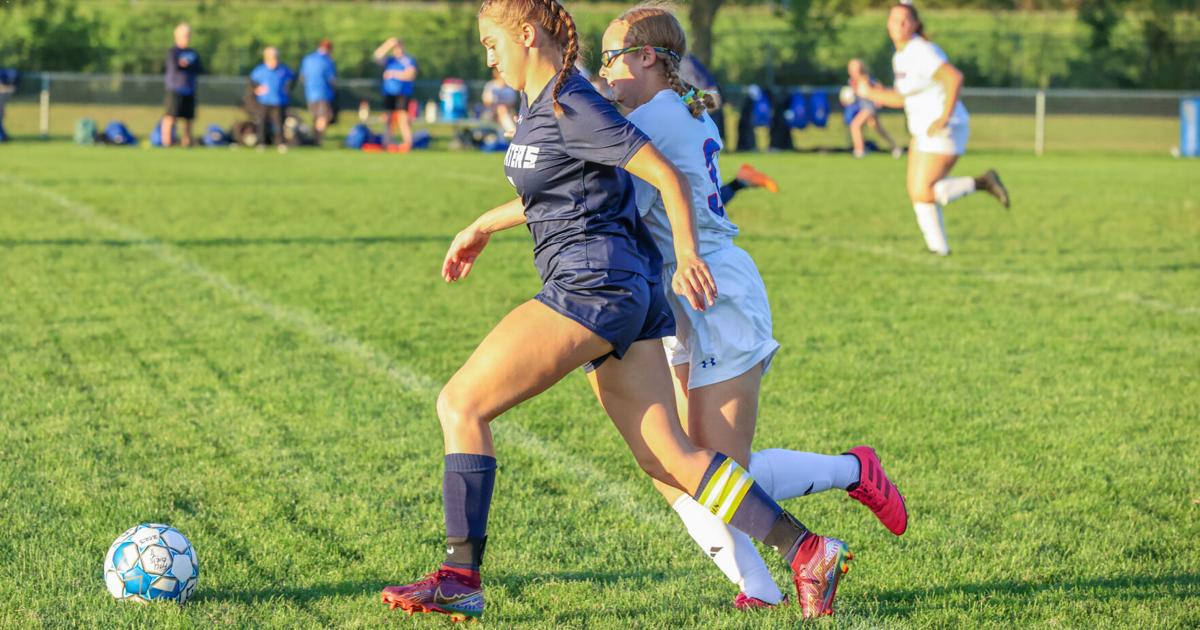 Girls soccer playoffs are just over two weeks away and teams across the state face that annual balancing act of trying to bring their 'A' game while also saving their best for last.
A lot of must-win matches are on tap for squads seeking home-field advantage for the playdown or quarterfinal rounds of the post-season. And with rain in the forecast, field conditions could easily deteriorate and a few 6-yard boxes may start to resemble mud pits.
Sometimes it's a different brand of the beautiful game for teams in October because so many well-manicured pitches get chewed up by herds of hard-charging athletes. Simple actions like planting a foot, settling a pass or scoring a wide-open goal suddenly become Herculean tasks.
It's also common for teams to contend with a carpet of snow during the playoffs, making Vermont soccer truly a unique experience. Mother Nature's curveballs can be a saving grace for less-skilled teams attempting to park the bus and pull off a massive upset by scoring on a counterattack or with a fortuitous penalty kick. And while crowds love to watch an aesthetically pleasing style of soccer, they also love underdogs.
As teams jockey for playoff positioning, a few of the same questions from preseason persist: Does Division I powerhouse CVU have what it takes to bring home its 21st championship? Is it possible that two-time defending champ Rice will blaze a path to the D-II final for the seventh year in a row? Will Stowe keep rolling in D-III and capture its fourth straight crown? Can the Proctor girls advance to the D-IV finals for the 13th year in a row?
Those four teams have dominated the headlines for a long time, but some other squads are making a case that it's their turn to steal the spotlight. North Country has never won a semifinal match, but the Falcons are trending upward and have a lot of swagger after the girls basketball team captured its second title in three years last winter. Sabine Brueck is the reigning Gatorade Player of the Year in basketball and she showcased her finishing ability in soccer last week by scoring five times in an 8-0 victory over Montpelier. Last year the Falcons carried a 12-2-1 record in the quarterfinals but suffered a 2-1 loss to Milton, which is 16-3 all-time in championship appearances.
Milton and Rice have faced off in three of the past six title games and it's safe to say that the Yellowjackets will have plenty of motivation this year if they play the Green Knights again. Earlier this week Milton built an early 3-0 over Rice and led 4-1 entering halftime before both teams combined to score three times in a span of 33 seconds to pull ahead 5-4. Rice's Reese Billings wound up scoring her second goal to knot things up at 5-5 with 3:25 left in regulation and then Megan Marroquinn capped her hat trick in overtime for a 6-5 victory.
Last season Milton reached the final as the No. 7 seed, while Rice won it all as the No. 9 seed in 2019. This fall Middlebury packs a lot of upset potential and is currently 13th in the D-II standings just in front of No. 14 Montpelier. In the D-III ranks, No. 6 Stowe and No. 7 BFA-Fairfax will be a handful for any quarterfinal opponent even if the Raiders or Bullets have to hit the road. And Proctor (3-6-1) may have a long bus ride for the D-IV playdowns, but the Phantoms' ability to peak for the postseason can't be questioned.
Proctor's Isabel Greb has buried 20 goals this fall and could singlehandedly be an equalizing force if her team is outmatched in possession and scoring chances. Isabella Anderson (13 goals) and Emma Blodorn (10 goals) have been lethal weapons for D-IV rival MSJ, while Poultney's Eme Silverman (11 goals) and West Rutland's Hayley Raiche (six goals) have also been sharp. Arlington's Sidney Harrington scored twice in a 4-3 win over MSJ and buried four goals in a 5-1 victory over Poultney.
The Southern Vermont League also features the high-scoring Fair Haven trio of Lily Briggs (20 goals), Maddy Perry (12 goals) and Elizabeth Love (10 goals) in D-III. Mallee Richardson (seven goals) and Allie Charbonneau (six goals) have stepped up for Otter Valley, while Mountain Division heavy-hitter Paine Mountain has three players who have all scored at last seven goals: Emma Korrow, Hannah Spencer and Destiny Campbell.
Harwood's Eloise Lilley and Montpelier's Estherline Carlson have both tucked away 11 goals to set a high bar in the Capital Division, while U-32's Maia Pasco (nine goals) and Spaulding's Sophia Guarriello (six goals) are not far behind. CVU's Chloe Pecor (24 goals), Burlington's Brooks DeShaw (14 goals) and Colchester's Ava Moore (12 goals) continue to light it up in Metro League action.
Here are the latest Rutland Herald/Times Argus power rankings as teams gear up for a big week ahead:
1. CVU (9-0) The Redhawks are ranked No. 6 in the nation and will be determined to back up the hype. Pecor scored in a 1-0 victory over Burlington and delivered a four-goal, one-assist performance in a 5-0 victory over Burr & Burton.
2. Colchester (9-0) The Lakers are ranked 11th regionally after securing a 4-3 win at Burlington, a 4-0 win at St. Johnsbury and a 4-0 win at Mount Mansfield. Colchester will finish up with matches against Essex, Burlington, CVU and BFA-St. Albans. For Chittenden County fans, it's a shame the Lakers don't play the Redhawks twice in the regular season.
3. Burlington (6-2-1) It was a mixed bag for the Seahorses, who suffered close losses to Colchester and CVU before bouncing back with a 3-0 victory over Essex. DeShaw recorded a hat trick against Colchester, while Glenna Westbrook (two goals), Athena Moulaert (one goal) and Scout Harper (two assists) stepped up against the Hornets.
4. Mt. Mansfield (5-4) The Cougars were scratching their heads defensively during lopsided losses to CVU and Colchester, but they were much more organized while securing a 2-0 win over South Burlington. MMU hasn't won a title in 20 years but came close last year during a 1-0 finals loss to CVU.
5. South Burlington (3-4-1) Despite the setback against MMU, the Wolves have proven that they belong in the title conversation. Diana Larrow, Eve Linnell and Elsa Ostby all scored on assists by Oakley Machanic during a recent 3-1 victory over BFA-St. Albans. And South Burlington was in top form early in the season during victories over Mount Abraham, Rice and Mount Mansfield.
6. Milton (7-2) A 10-0 win over Vergennes and a 6-2 victory against Mount Abraham confirmed that the Yellowjackets are one of the most dangerous offensive teams in the state. Cianna Tomasi (two goals, one assist), Savannah Monahan (one goal, two assists) and Holley MacLellan (one goal, one assist) were key contributors against Rice, while goalie Ella Scharf made nine saves for Milton.
7. Rice (4-3-2) A nine-save effort by third-year starting goalie Sunshine Clark helped the Green Knights rally past the Yellowjackets. Rice struggled to finish during a 1-1 draw with Mount Abraham but had no trouble opening the floodgates during a 5-1 win over Middlebury.
8. North Country (4-3-1) Brueck's return to top form against Montpelier reminded everyone that North Country is better than its record. The Falcons kicked off the season with a 4-1 win at Milton, and earlier this week goalie Maya Auger recorded her second straight shutout during a 6-0 win over Lamoille.
9. U-32 (8-0) The Raiders own six one-goal victories, including 1-0 wins over North Country and Spaulding. Keeper Yvette Petrella has been a game-changer for the East Montpelier-based squad, which will close out the regular season with games against Lake Region, Harwood and Stowe in an eight-day span.
10. Essex (3-3-3) A tough stretch of games resulted in perfect symmetry to the Hornets' record. Returning All-State keeper Kelsie Scanlon fueled a scoreless tie with South Burlington before Essex fell short against BFA-St. Albans and Burlington.
BUBBLE: Burr and Burton (3-4-1), BFA-St. Albans (3-4-1), Mount Anthony (5-4-1), Spaulding (5-4), Mt. Abraham (6-2-1), Harwood (4-3-1), Stowe (6-4), Fair Haven (8-1).
DIVISION I TOP 5
1. CVU (9-0) 2. Colchester (9-0) 3. Burlington (6-2-1) 4. Mt. Mansfield (5-4) 5. South Burlington (3-4-1)
DIVISION II TOP 5
1. Rice (4-3-2) 2. Milton (7-2) 3. North Country (4-3-1) 4. U-32 (8-0) 5. Spaulding (5-4)
DIVISION III TOP 5
1. Stowe (6-4) 2. Fair Haven (8-1) 3. Lake Region (6-3-1) 4. BFA-Fairfax (6-2) 5. Paine Mt. (7-2)
DIVISION IV TOP 5
1. Arlington (8-1) 2. Leland & Gray (6-2-1) 3. West Rutland (7-2) 4. MSJ (6-4) 5. Hazen (5-2-1)