FunCity Courts near completion | The Hawk Eye – Burlington, Iowa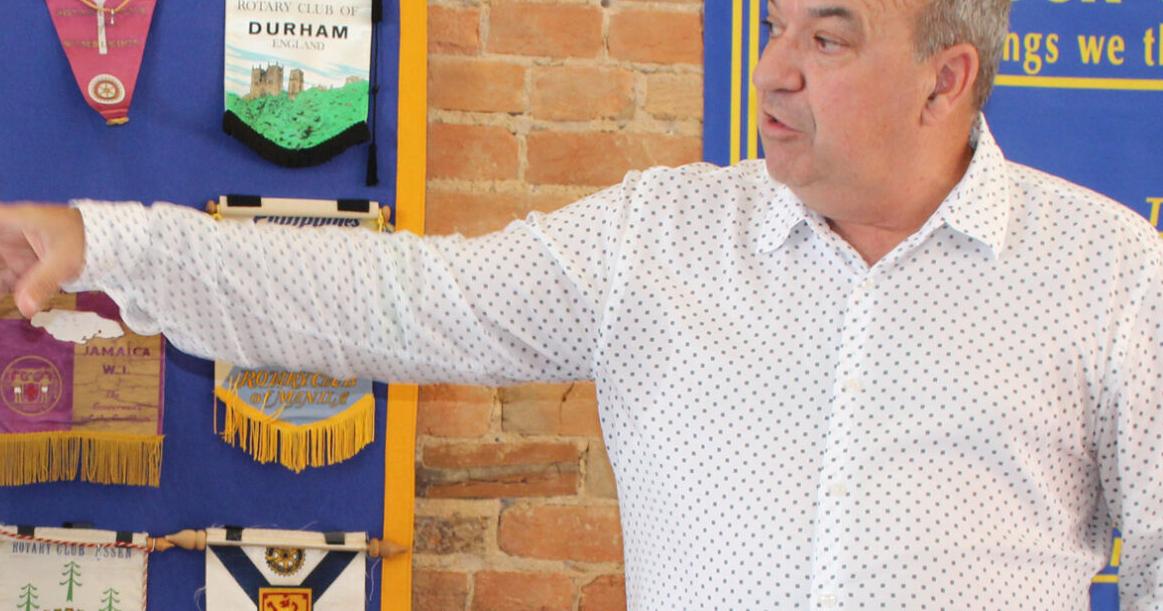 The FunCity Courts complex is moving right along with a soft opening to take place about Oct. 20 for a group that is to be in Burlington for a softball tournament and an official opening about Oct. 27.
"But keep in your mind that on Nov. 10 we're going to be doing a huge grand opening for it," Rob Higgins, vice president and general manager of Great River Entertainment, LCC, told Fort Madison Rotarians earlier this week.
Higgins updated the service club on the courts project, which will house three collegiate-sized basketball courts that allows for up to six volleyball courts.
"When you do go in there, you're going to be pretty blown away from the standpoint that they are lines everywhere because there are three college regulation basketball courts that can be run as high school. Then there are six courts that have volleyball too. I would never want to be a basketball official doing any tournament because you would have no idea where the lines are going, but it is absolutely beautiful."
There also will be a 10,000-square-foot multi-use area for pickleball courts, wrestling and other activities. The facility is designed to host a wide range of tournaments.
"The number one sport in this world today is not the NFL, not college football, not college basketball, not high school basketball. As you know in this community, it's pickleball, so we have built four pickleball courts there."
Higgins said the basketball court arena is finished, and the pickle ball courts are nearing the finish line.
He said while basketball games are played on the lower level of the gym area, the upper level is devoted to pickleball.
The indoor water park area at Fun City has been transformed into what GRE calls "courtside."
Courtside is an area for people to congregate and enjoy a snack bar, a full-service bar, and where there will be three large flatscreen televisions .
"You'll be able to watch sports and then later on we're going to have CCTV (closed circuit television) so that when an event is going on in the basketball arena we will be able to broadcast it, to televise it, in the seating area."
Higgins said facilities to accommodate athletic events and tournaments are being built all over the state, with examples readily cited in Des Moines, Bettendorf and the Quad Cities, and yet another is planned in Coralville.
Higgins says that with the six motels in Burlington his company operates – three of which are on the FunCity property – as well as the Catfish Bend Casino and Fun City and associated restaurants, expanding to include sporting events was a natural fit.
In the courts hospitality area is the Ballocity course which was a soft play area for younger children. While it was taken down to make way for construction, the soft play area is being reconstructed, but joined by a new Ninja Extreme Course aimed at middle and high school-age youngsters, and a newly constructed indoor swimming pool for the hotel with a splash pad.
"When you have a facility like this and have all these options, as a parent going to basketball and volleyball tournaments, they just need to come park their car and don't have to leave for two or three days, which is a great attribute for not only Burlington, but Fort Madison as well. Even though it's in Burlington we still consider Fort Madison a big part of what we do, especially with our casino."
Higgins said these facilities, old and new, are open to the public, but bookings, such as reserving pickle ball courts that will be open daily 8 a.m. to 9 p.m., must go through the Greater Burlington Area Sports Authority. That entity, he said, will book tournaments and take reservations for using the facilities.
"GRE owns the property and we are leasing this space. We are just the landlord to the Greater Burlington Sports Authority, but we partner with them on what takes place there and we want good customer service, but they are the ones responsible for booking the courts, the tournaments."