elections results jamestown high point burlington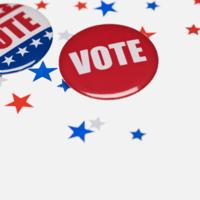 Believe it or not, it's that time again.
Voters in High Point, Jamestown and Burlington went to the polls on Tuesday for primary races.
If the complete but unofficial results hold up,  winners will advance to the Nov. 7 general election.
Several other area communities have municipal elections this fall but won't need a primary. Greensboro, for instance, holds its elections on a different schedule and won't be having municipal contests this year.
Meanwhile, in the race to be High Point's next mayor, Victor Jones will face Cyril Jefferson, who won by a wide margin.
In a phone interview, Jones said that maintaining High Point's decreasing crime rate would be a priority for him along with restoring the city's "supply of high-wage jobs."
Signs direct voters to the polling place at Williams Memorial CME Church on Triangle Lake Road in High Point on Tuesday.
Jones, who served for 13 years as a U.S. Marine, claimed that he has knocked on over 2,000 doors so far.
"The turnout we see today will represent constituents' confidence in the candidates," Jones said.
Amanda Cook, a City Council candidate who is moving on to the general election in High Point's at-large race, said that city leadership isn't addressing a major issue: child poverty. 
"To me, High Point is not being honest about what's really going on," Cook said. "We love  to talk about the furniture market and High Point University, but a majority of our children live in poverty."
A 2017 study by the U.S. Census Bureau found that nearly 4,000 impoverished children live in High Point's five poorest tracts. In the same study, the city's child poverty rate was more than 10% higher than High Point's overall poverty rate.
"I've been teaching in Title I schools for 15 years," Cook said. "When you get to know children and parents, you understand the roots of different issues. When I was running for school board last year and I was knocking on people's doors, people were talking about their power and water. Those are City Council issues."
Voter turnout
According to early data from the Guilford County Board of Elections, Tuesday's primary had more ballots cast than the last primary election in 2019. 
Still, those numbers pale in comparison to the actual number of registered voters. The number of ballots cast — over 6,000 — was only 8% of the registered voters in the county — which isn't uncommon, according to Guilford County Board of Elections Director Charlie Collicutt.
What makes people care?
Typically, if there is a major political event like a bond referendum or a zoning decision, residents are more likely to cast ballots.
Some might vote in reaction to other events, such as High Point's recent 8-1 approval by City Council on a plan for reparations for African-American residents, which made the city one of the few municipalities in the state to take such action.
The most recent bond referendum for Guilford County occurred in May 2022 when voters approved $1.7 billion for schools — one of the largest in the entire country. Nearly 20% of registered voters in the county cast their ballots in the decision.
In November, residents of Summerfield are expected to turn out in large numbers to vote in the town's elections for mayor and Town Council because of a decision by elected officials to rezone land for a massive real estate development. At a Town Council meeting last week, Summerfield residents distributed information about mayoral and Town Council candidates who oppose the development.
John Hamilton, a local attorney and candidate for Town Council, noted that there were many Summerfield residents who did not attend last week's public hearing on the matter.
"A lot of folks didn't come here … because they thought it was going to be a done deal already," Hamilton said. "And instead of coming here and giving their voice, they're going to give their voice on the ballot."