Deputies arrest man with hypodermic needle in sight | The Hawk Eye – Burlington, Iowa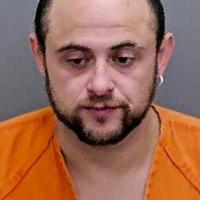 A 38-year-old Burlington man who struck a rock wall under a viaduct was found to be in possession of a loaded hypodermic needle, Des Moines County Sheriff's Office said in a statement.
At about 2:55 a.m. Monday DMC Sheriff's deputies observed a suspicious vehicle near DMC Highway 99 and Tara Road and recognized the driver as Travis Myloe Keever, according to the statement from Sheriff Kevin Glendening.
Keever drove off when deputies got out to check on the vehicle, the statement says.
A short time later officers saw the vehicle strike a rock wall under a viaduct on Des Moines Avenue near Oak Street, and stopped the vehicle at Oak and North Ninth streets, according to the statement.
Deputies observed a loaded hypodermic needle in plain view during the stop, the sheriff's office said.
The statement says deputies then detained Keever, searched the vehicle, and located drug paraphernalia, marijuana and methamphetamine.
Keever was taken to jail and faces two counts of possession of a controlled substance third or subsequent offense, possession of drug paraphernalia and failure to maintain control, according to police.