Cool moves: Bullitsburg Baptist utilizes underground spring-fed outside baptistry | Baptist Life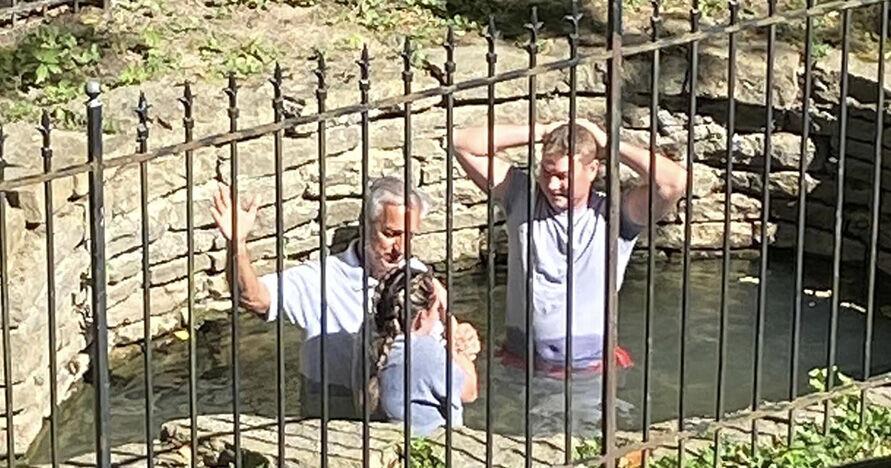 PETERSBURG, Ky. (KT) – Bullitsburg Baptist Church's outside baptistry has a way of taking your breath away – spiritually and physically.
It is one of the world's oldest outdoor baptistry pools that is designed to be fed by an underground spring. Those who choose to be baptized there, instead of in the warm water baptistry inside the church, get a memorable experience from the time their toes touch the water until they are submerged completely.
David Panella, who has been the pastor since COVID hit in 2020, has taken several new believers through the chilly water that can take your breath away.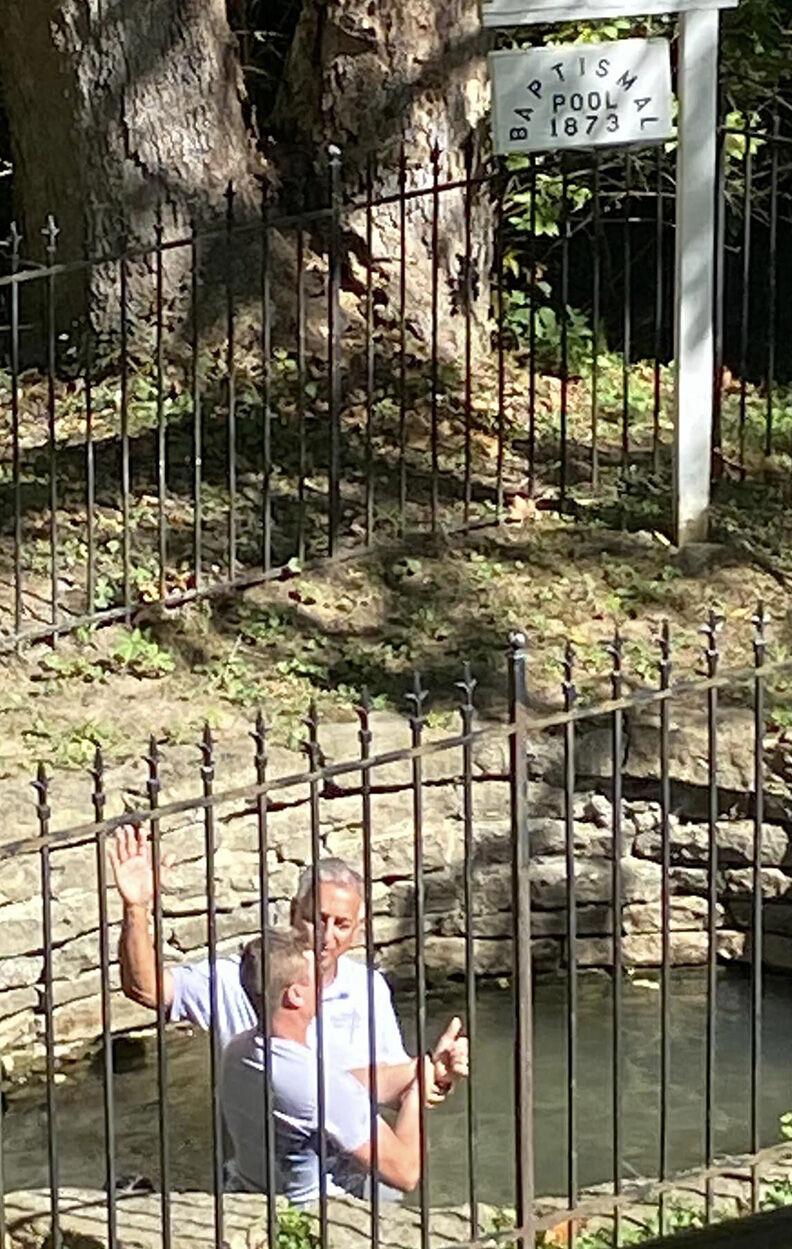 "We do the outside baptisms as much as we can," he said. "It feels like the cold water coming out of a spigot when you're filling a tub at home. Kind of the same feel when you step into a cold swimming pool."
The baptistry pool is shaped like a keyhole and it has iron rod fencing around it for security purposes. It is shaped with rocks from when it was built in 1873, which would make the baptistry 150 years old. The church has a rich history and will celebrate 230 years in January.
The baptistry has a pipe that feeds spring water into it, Panela said, and sometimes you can feel the tadpoles and other aquatic creatures swimming around your ankles.
It is located near the church alongside a creek. It was dug where they thought spring water was coming out. There is a pipe in the baptistry where the water naturally trickles through. The water level is about the same as the creek next to it. The pastor said they clean out the soot occasionally.
Panella first personal experience in the outside baptistry came in 2008 when he baptized his son, Lucas. Panella was a member of the church at the time. He said the water was certainly on the chilly side that day. "My son became a believer, and we baptized him outside. That was in March or April and the water was really chilly. He came out of there like a dolphin!"
He said about a month ago, a young girl went through the outside baptismal waters and felt the chill in a big way.
"It's always cool," Panella said. "It doesn't matter how hot it is (outside). Four weeks ago, a little gal who is about 10, little Emily, got into the baptistry turned toward the people (watching). One person put their camera close between the rod iron fence, got the camera right between there right when Emily stepped into the water. Her face was like the proverbial Christmas carols singing, 'OOOOOHHHH!'"
Panella said he stepped into the interim pastor role when the previous pastor resigned to take care of his wife. It was during COVID, and his wife had a weak immune system. The pastor didn't think he could take a chance on him passing COVID to her, so he asked Panela if he would take over.
Panella was retired from secular work but worked as a "house husband" while his wife continued her teaching career at Burlington Elementary. He said he has a newfound respect for homemakers. "The job never ends," he said. "It's non-stop between cleaning, cooking, planning meals. I don't know how they do it."
The church had dwindled to about a dozen when his family rejoined after being away for several years while living in different areas.
Panella graduated from The Southern Baptist Theological Seminary, so he had some strong biblical background. He agreed to "step in for three months and that turned out to be four years in March" he said. "God has blessed. I'll tell you the reason why: it was the commitment as a church, as small as we were. The word of God, the Holy Bible, would take precedent in all of our lives."
Slowly but surely the church began to grow and now reaches about 40 every Sunday. It plans to begin children's church soon.
"If you can't find a need, don't do anything about it but if you find a need, find a soul," he said. "The only thing you have to give them is the word. We don't have the bells and whistles of all the community churches. We sing out of hymn books and are not gifted with a lot of musical talent."
But the Holy Spirit is moving among them and both the inside and outside baptistries continue to be used on a regular basis.
Charles Frazier, the associational mission strategist for the Northern Kentucky Baptist Association, recently preached a revival at the church in September and witnessed an outside baptism. Even though it has been a relatively warm September in northern Kentucky, the water looked cold to him.
 "It had to be extremely cold. I could not see their faces. I was standing a good 50 feet above them. It was a husband and a wife," he said. "It was definitely cool water. The spring water baptism, it was interesting to see all that. It was a great experience, with the legacy of this church doing their baptisms there. There was this sense of thankfulness for this couple and what God is doing in their lives."