Constance "Connie" Prouty | Obituaries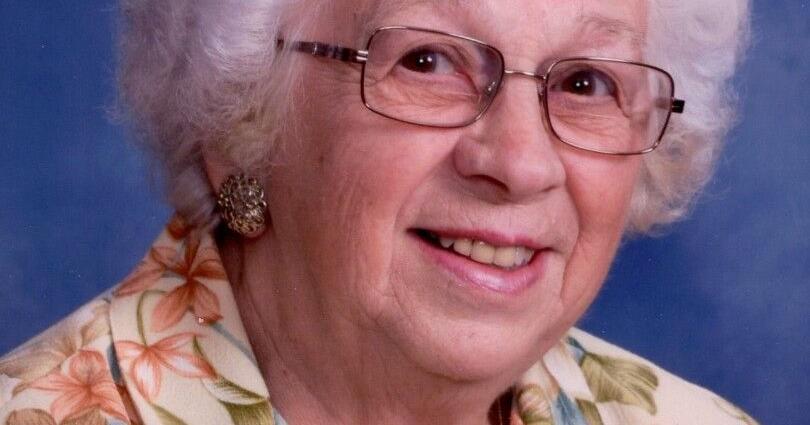 SWANTON- Constance "Connie" Prouty, age 92, passed away on Thursday, October 5, 2023 at Brownway Residence in Enosburg Falls.
She was born in Swanton on January 3, 1931 to the late Winfield and Orilla (Bradford) Cline.
Connie was a shining presence in her community throughout her life. She attended Swanton High School and graduated in 1949, where she was honored to serve as the class secretary from 1946 to 1949. Her love for music led her to join the glee club, and she actively participated in various extracurricular activities, including basketball, and the Girl Scouts.
It was during her time at Swanton High School that she met her husband, Sanford "Sam" Prouty Jr. Connie and Sam were united in marriage on November 21st, 1952, and together they cherished countless memories, including their shared love for music such as singing in the Church Choir, dancing and their visits to the Sheldon Casino with friends.
Throughout her professional life, Connie held various jobs, showcasing her versatile skills. She worked as a seamstress, waitress, and also for Union Carbide. However, her true passion lay in creating delicious meals as the head cook for Swanton Central School. She poured her heart into nourishing the children she fed and cared for at the school, leaving a positive impression on their day.
Beyond her career, Connie's artistic flair shone through in her talents as a quilter, creating beautiful decorative pillows and quilts that adorned her family's homes. She could be counted on to help with the Eastern Star dinners and decorations as well as Church Tea's and luncheons. She was well-known for her culinary skills, particularly her rolls and comforting soups, which warmed the hearts of her loved ones.
Connie will be remembered as a pillar of compassion and selflessness. She dedicated her life to caring for others and was recognized for her exceptional caregiving to her husband Sam, receiving the prestigious Caregiver of the Year award in 2002 from the New England Area Social Works. Known for her gentle and kind nature, Connie had an unwavering devotion to her family and friends. Spending time with her grandchildren brought immense joy to her life.
Active in her community, Connie was a dedicated member of the Eastern Star Chapter 11 in Swanton since 1953. She was also a member of the International Order of Kings Daughters & Sons for over 50 years. And was a member of the Mayflower Society. Additionally, she was a valued member of the 1st Congregational Church of Swanton, where she served as a choir member and member of the ladies First Club. Connie's commitment to others led her to co-found the S.V.F.D. Ladies Auxiliary in 1970, as well as answering the "Fire Phone" to dispatch the Fire Department for many years, extending her caring nature beyond her immediate circle.
She is survived by her children, Linda Prouty-Olmstead and her husband Michael of St. Albans, Donna Prouty Brosseau and her husband Philip of Highgate Center, and Peter W. Prouty and his wife Anita of Swanton; grandchildren, Sabrina and her husband Brian Corliss, Brian St. Pierre, Christopher Brosseau and his wife Haley, and Connor Prouty; great grandchildren, Tennessa St. Pierre, Kinsley and Peyton Corliss, Jack Brosseau; brothers, Charles A. Cline and Spencer Cline Sr; siblings-in-law, Ramona Cline, Laura Ann and Robert Mott, and several nieces and nephews. In addition to her parents, step-mom, Eunice Glidden Cline and her step-father Horace Cantwell, Connie was predeceased by her husband of 49 years, Sanford Curtis Prouty Jr.; an infant daughter in 1965; father and mother-in-law, Sanford Sr. and Laura (Wilbur) Prouty; brother-in-law, William E. Prouty and his wife Ruby, Francis Prouty Choiniere and her husband Jacque, Nancy Prouty Sheldon, and sister-in-law Betty Cline; dear friend, Mary D. Morse; as well as many dear friends.
Family and friends are invited to Connie's life celebration events on Friday, October 13, 2023 to include visitation from 10:00-11:00 AM and a memorial service at 11:00 AM at The Goss Life Celebration Home, 89 Grand Ave., Swanton, VT 05488 Interment will follow in Riverside Cemetery in Swanton.
For those who wish contributions in Connie's memory may be made to the Swanton Village Fire Department- Star Hose Company Inc., P.O. Box 279, Swanton, VT 05488, and/or the University of Vermont Cancer Center, St. Joseph, 5th Floor, 1 South Prospect Street, Burlington, VT 05401.
Condolences, photos and favorite memories may be shared through www.gossfs.com