Canadian describes surprise Hamas attack on Israel as politicians condemn violence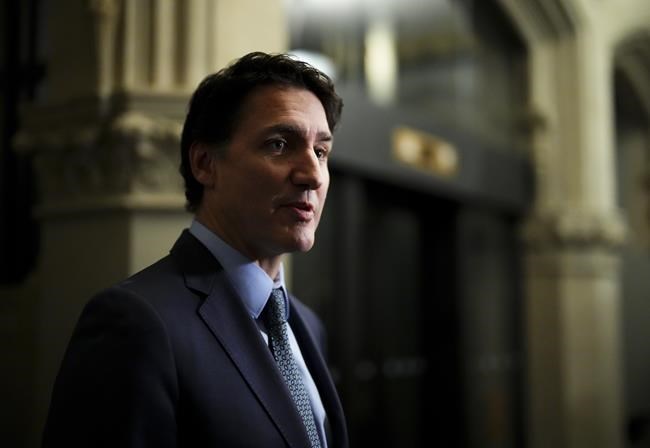 HERZLIYA, Israel — A Toronto man staying in a city minutes away from Tel Aviv said Saturday that he and his wife have taken refuge multiple times in bomb shelters as unprecedented and multifront violence continues between Israel and Gaza.
HERZLIYA, Israel — A Toronto man staying in a city minutes away from Tel Aviv said Saturday that he and his wife have taken refuge multiple times in bomb shelters as unprecedented and multifront violence continues between Israel and Gaza.
Hugh O'Reilly, a Canadian man who is in Israel with his wife for a wedding, said while they were at a synagogue for a festival, they could hear booms from Israel's Iron Dome anti-rocket defense system.
"You know when you hear fireworks on Canada Day or New Year's Day? It was like that," he said in a phone interview with The Canadian Press from Herzliya, the city he is staying in that is about 15 minutes away from Tel Aviv.
Israel's prime minister declared the country is "at war" with Hamas late Saturday evening, after Hamas militants stunned Israel in the morning with hundreds of rockets and sent gunmen into as many as 22 locations outside the Gaza Strip, including towns and other communities about 24 kilometers away.
The Israeli military has since responded by striking targets in Gaza, including a 14-story tower that held dozens of apartments as well as Hamas offices in central Gaza City.
O'Reilly said he still felt safe.
"The reaction was as long as you don't hear (warning) sirens, you just keep doing what you're doing," he said.
Later in the day, he said he did hear sirens, and so he headed for bomb shelters with his wife. They were at their hotel for the first one, and they walked down the stairs of the emergency exit to the shelter in the hotel's basement. For the second, they were at a family dinner at a cousin's, and everyone went to the bomb shelter in his house.
Each time, they were in the shelter for about 10 minutes. There isn't really an all-clear, he said, adding people who live in Israel just seem to know when it's OK to come out.
"In the shelter, you're meeting people and talking to each other, keeping each other's spirits up," he said, noting he and his wife still plan on attending the family wedding on Monday and aren't seeking an earlier flight home.
Prime Minister Justin Trudeau said that Canada strongly condemns the Hamas attacks and called for civilian life to be protected.
"These acts of violence are completely unacceptable. We stand with Israel and fully support its right to defend itself," Trudeau wrote in a post on X, the platform formerly known as Twitter.
His declaration and the overseas violence were being watched in Canada, where some police forces, including ones in Vancouver and Ottawa, upped their presence at mosques and synagogues. The country's largest airline, Air Canada, cancelled flights to the region and politicians called for peace.
"I unequivocally condemn the invasion of Israel by Hamas terrorists and the sadistic violence they have subsequently carried out against innocent civilians," Conservative Leader Pierre Poilievre said in a statement. "Canadians pledge their solidarity with all the victims."
Foreign Affairs Minister Melanie Joly posted on X condemning "the multi-front terror attack," as did NDP Leader Jagmeet Singh, who called for hostages to be immediately released.
"We fear what the coming days will bring. Terrorism and violence solve nothing," Singh said. Bloc Québécois Leader Yves-Francois Blanchet said Hamas' violent provocation exposes Palestinian civilians in all regions to "terrible reprisals."
Global Affairs Canada said there are currently 1,419 registered Canadians in the state of Israel and 492 in the Palestinian territories. The government said it received approximately 97 inquiries about the situation, all of which were seeking general information.
"There are currently no signalled Canadian casualties or injuries," it wrote in an email, adding that personnel at the Canadian Embassy in Tel Aviv, as well as personnel in Ramallah, are safe and accounted for.
The organization urged Canadians travelling to the region to exercise a "high degree of caution" in Israel and avoid all travel to the Gaza Strip and the country's borders with Syria, Egypt and Lebanon. Non-essential travel to the West Bank and Gaza Strip border was also discouraged.
Rescue service officials in Israel said at least 250 people have been killed and 1,500 are wounded in the attacks by Hamas. In the Gaza Strip, at least 232 people have been killed and at least 1,700 wounded in Israeli strikes, the Palestinian Health Ministry said.
Global Affairs Canada urged anyone in the affected areas to limit their movements, remain "extremely cautious" and shelter in place until it is safe to leave the area.
It said the Canadian government's ability to provide consular services to Canadians in the Gaza Strip is "limited" and in cases of deportation, local authorities are not obliged to notify the Canadian Embassy in Tel Aviv nor the Representative Office of Canada in Ramallah. Canadian personnel in those locations were safe and accounted for, it added.
Israel has maintained a blockade over Gaza since Hamas seized control of the territory in 2007. The bitter enemies have fought four wars since then.
Advocacy organization Canadians for Justice and Peace in the Middle East urged the Canadian government to support calls for a ceasefire and a negotiated resolution following the escalating violence.
"Canada must call on all parties to implement a ceasefire, including an immediate end to the brutal daily violence of Israel's military occupation," said Thomas Woodley, CJPME president, in a statement.
The Trudeau government has opposed efforts for Palestinian justice through non-violence, the organization said, whether through the movement to boycott Israel, the United Nations General Assembly or international courts.
"Violence is an inevitable response when all avenues for peaceful, nonviolent, or diplomatic protest against oppression have been denied," said Woodley.
Iddo Moed, Israel's ambassador-designate to Canada, said in a statement that the attack proves Hamas has no interest in the safety of citizens of the Gaza Strip, seeing them as "nothing more than a pawns in its efforts to harm the citizens of Israel."
"On a holy day when the Jewish people should be peacefully coming together in a synagogue to celebrate the Torah, hundreds of Israelis are hiding for their lives while hundreds of thousands remain in shelter and Israel finds itself in a state of war."
This report by The Canadian Press was first published Oct. 7, 2023.
— With files from The Associated Press.
The Canadian Press